Tobacco Valley, Connecticut Photo Heavy
It's been interesting to see others' surroundings, and I hope you enjoy this brief tour through one of the few remaining "wrap tobacco" areas of the country. They are now a fourth generation farm, and the owners are deeply committed to remaining farmers.
All of this is within 1/4 mile of my house, and it hasn't ceased to amaze me for my entire life that the growing, harvesting and drying methods remain unchanged. Virtually Nothing is mechanized except for tractors pulling the harvest rather than horses.
The view from my yard across the street to the "sun type" fields. Note the empty tractor-pulled wagon.
One side of the field is planted for seed; the other for strictly foliage. Each year the seed fields are rotated so that the soil doesn't wear out.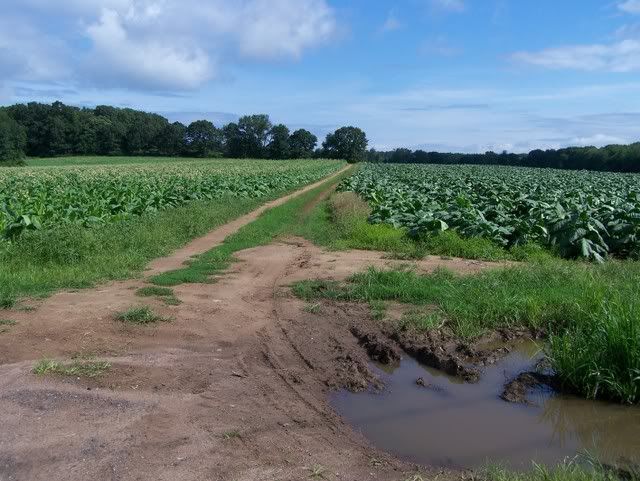 True Nicotiana:
The other type of tobacco is shade grown -- a luxury amongst cigar makers. This is the type of tobacco I worked on in my youth, and suffice to say that the heat index under those nets is suffocating:
Harvested and ready for cover crop ...
Leaves are sorted in the field by length, and transported for drying -- these guys cruise so just managed to get the now-filled wagaon. We watch and hear this scene for several days, all day, each summer: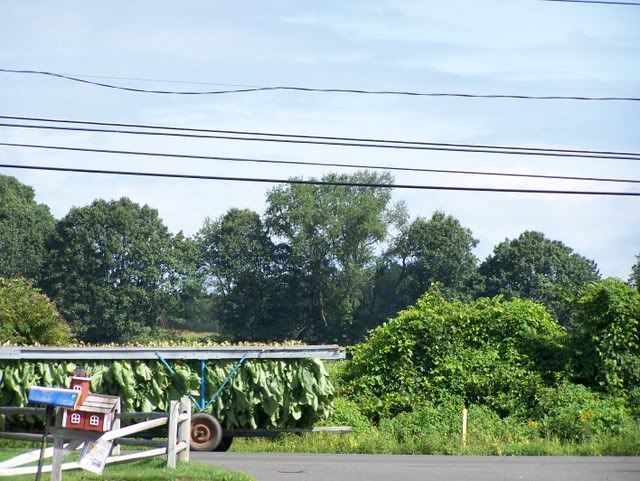 The leaves are then hung to dry -- only certain workers that have worked the fields for many years are allowed to do the acrobatics necessary to hang the leaves:
Hope you enjoyed learning about our part of CT's agricultural history!