Skydive Stills
flowerluvr
(Z5 IN)
August 4, 2008
I'm going to have to make a trip to the library to get the videos on youtube, I guess. DFSIL tried yesterday, and it took 3 hrs to get a minute and a half of DS's loaded :(
In the meantime, here are some of the stills.
I was ahead of DS in the plane. He said it freaked him out when I went. He said he thought, "That guy just pushed my mom out of the plane" :)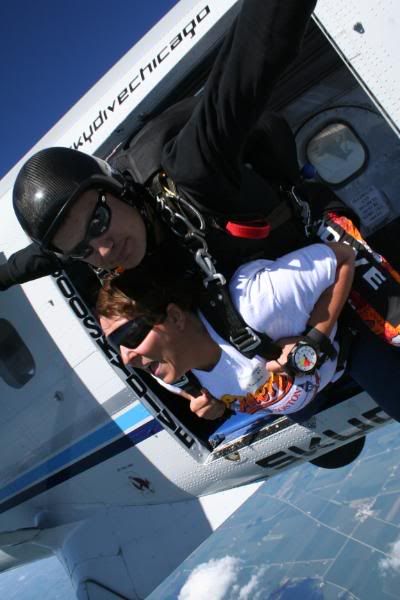 That's my boy, right there.....falling out of a plane!!
Freefall ROCKS! They went through the drill with us at least 10 times, so we'd know when to pull the cord. Lol, we were both so wrapped up in the whole thing that we forgot to do it. Fortunately, that happens a lot, which is what makes it nice to have someone who's got it together strapped on your back.
We live to fight another day ;)
So I don't make this a pain for slower connections, I'll post links to the slideshows. Even if you get sick of looking at me and the boy, the photograpy is AMAZING. The guy has the video camera on his helmet, and takes the still shots by biting on a switch in his mouth. I can't get shots this good with both feet on the ground, lol! They have THE most amazing staff working at this place. Both of my guys were nuts and we had such a good time. BTW, I wore the cheers shirt that my nephew brought me from Boston. He and his brother went skydiving, and him telling me about it was what prompted me to take Phil. I had my instructor and videographer sign the back of it...they thought that was a HOOT! So, I let my granny arms flap in the wind as a nod to DN. They offered me a flight suit, but I didn't want to cover up my shirt. DS tells me I'm a spazz, and I'm sure I embarrased him half to death with all my hopping around and clapping and just generally being excited out of my mind!
Here is a link that might be useful: DS Slideshow