Neophyte Photographer's Feeble Attempt
martieinct
August 20, 2006
The basis of containers that will be on both sides of the 14' wide steps to the patio. (And Rich's legs)
Blurry on purpose as this is a trial .. grower gave permission to show color of what might be the first true purple tint tuberous begonia. Several growers alledgedly have the tissue, but I haven't seen it out at market, yet.
When I trialed this several years ago, we nicknamed it "Blushing Bridesmaid" These are third year tubers so next year their show will really start.
If anyone doesn't have this coleus I'd be glad to take extra cuttings and attempt shipment after they root.
Next two pics are results of wintersowing. The multi-petunia smells even better than it looks :-)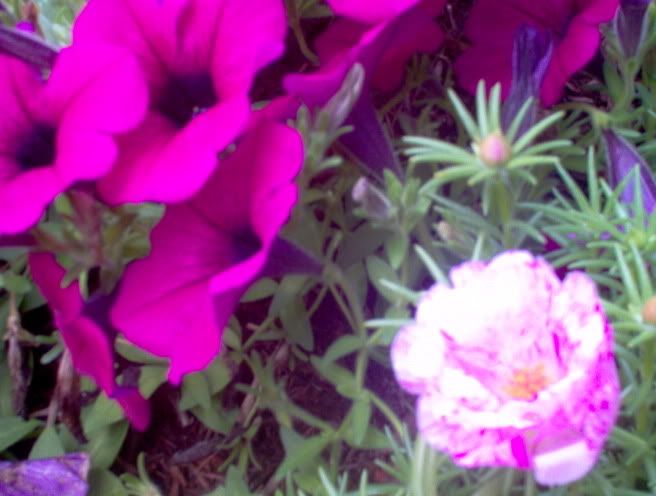 The tomatoes that ate the garden. (Note the size of the purple wave petunia plant cut in half -- that is One plant. Seeds from Pine Tree and highly recommended.)
Texture experiments on the corner of the house. The DA 'Shropshire Lad' stays where it is :-) Three more purple wave from Pinetree.
The mailbox/newspaper holder garden with the Passiflora crawling up the newspaper pole. It's fruiting!! They are supposed to turn orange -- a bonus. Again, this is to work with color, height and texture, but I sure do like the annual combo. A salmon groundcover rose is planted behind the mailbox and I'm hopeful that the portulaca self-sows.
Any phototaking suggestions are Welcome!!
Martie