lesson learned..................................................
koijoyii
(NE Ohio)
May 3, 2010
I learned a valuable lesson this year. I planted four hardy water lilies (two red, one white and one blue) in my top pond five years ago, and ignored them. Last summer when I posted pics someone made the remark when the pads stand up over the water they are overcrowded, and needed to be "thinned out". I didnt want to thin them out last year because I was afraid of disturbing my tadpoles and frogs. I think the severe winter claimed most of my adult frogs. I havenÂt seen any, but still have tadpoles. Well Friday it was in the 80Âs when I got home from work so I donned my shorts and climbed into the top pond. I could hardly get my feet to break through the tangle of roots and pads. Once I was able to break through I discovered I had one huge clump of lilies. The entire clump measured 4 ft. long by 3 ft. wide. I couldnÂt lift the darn thing. I pulled up the edges of the clump and broke or cut off a little at a time (using a hacksaw blade). Then I threw them over the edges onto the ground. Once I got the clumps down to manageable size I lifted the entire root mass over the edge and placed it in the wheel barrow. Wheeled them over to the grass and proceeded to cut through them with the hacksaw blade. The baskets I planted them in were embedded in the roots and the tubers had broken through the baskets. The roots had traveled from one basket to the next. I had to cut the baskets from the roots to free them. This took approximately two hours. By the time I was done my hands were pitch black, and my back was broken. Needless to say I have lots of extra lilies that I placed into my extra stock tank and tub. If anyone in the Cleveland area has tropicals (plants or lilies) they would like to swap for hardy lilies please send me an e-mail.
From over crowded: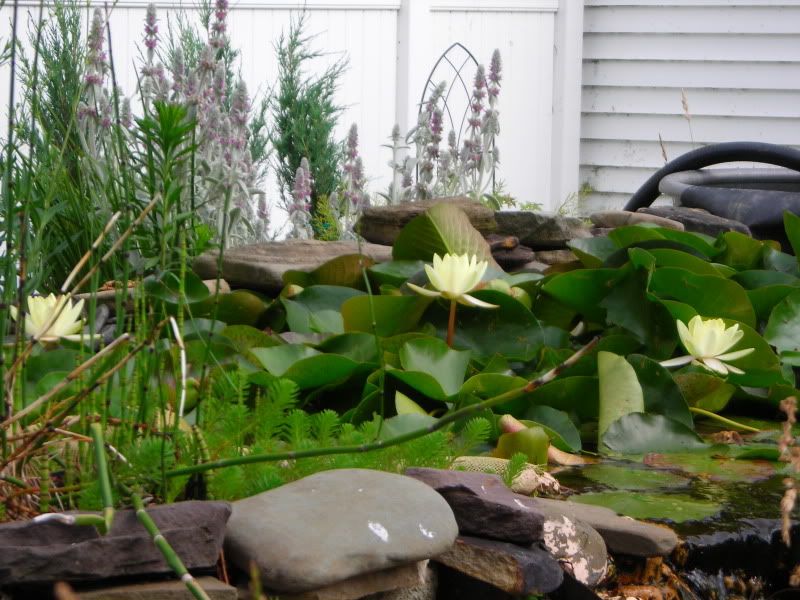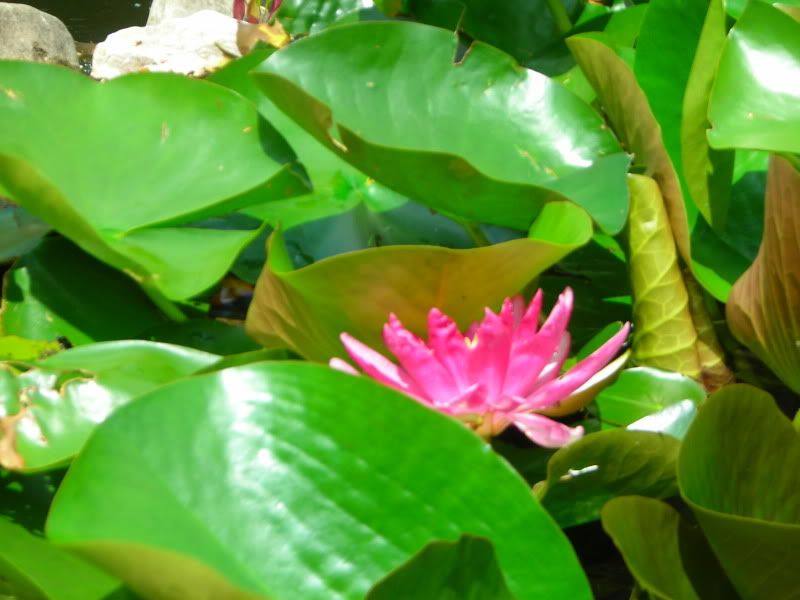 To all cleaned up:
My excess: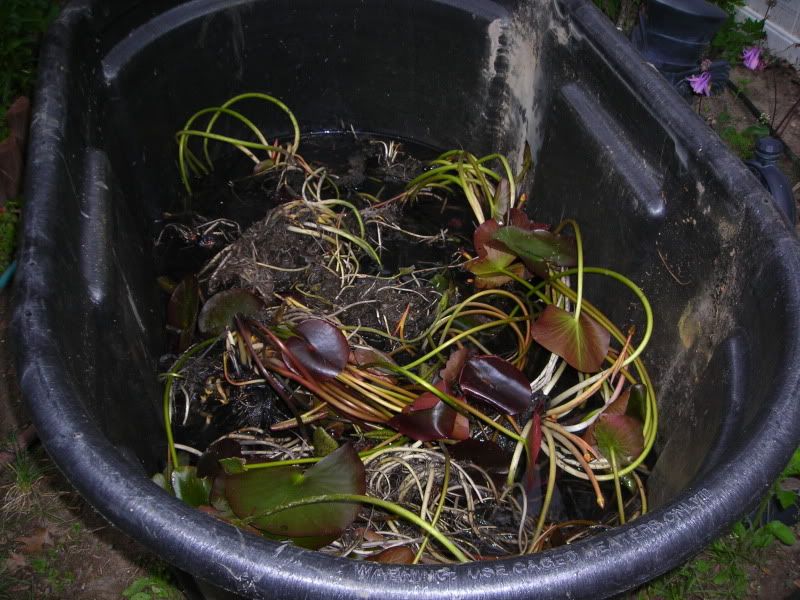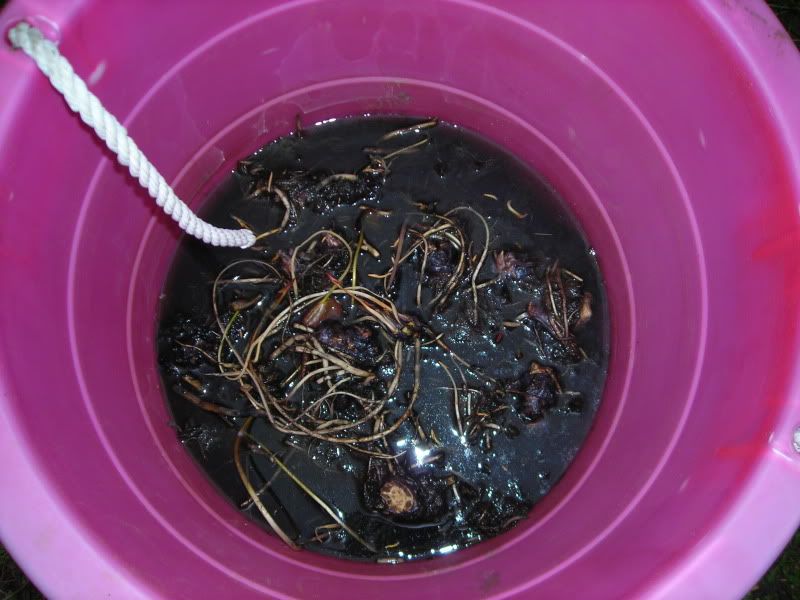 Yesterday I took six of the largest roots (pads and all). Planted them in new baskets, fertilized them and placed them into my large pond. (my vision of my pond is to have it one day look like a Monet painting). It took me all morning. I tied the baskets to a rope anchored to the pond edge, and lowered them down. This way I can pull them up every spring to divide them. My reward for my weekend of hard work was to go to the zoo with my , daughter, s-i-l and 8 mo. old granddaughter.
Had a wonderful time, but couldnÂt wait to get home to enjoy the rewards of my hard work. (Before I left several of the pads that were standing up above the water had already settled on the pond surface).
I ran to the backyard after they dropped me off (in the pouring rain).
AAAAACCCCHHHHHHHHH!!!!!! What is this? My koi swam to the edges of the pond waiting for food with their sweet innocent faces asking "Monet! Who!" All my backbreaking workÂÂÂ.all my visionsÂÂÂÂÂfloating on the pond surface like the dead leaves of fall. Nice big, huge rootballs and tubers spread like floating logs waiting to be sucked into the skimmer. Beautiful 3-4 inch lilie pads shredded like cheese. How can you still be hungry after consuming mass quantities of lilie roots? Was planning on taking pics when I returned from the zoo. DidnÂt have a chance. Surprise mom. Look what we did. ArenÂt your proud of us. Yes, little ones. You will now get your orange segments and zucchini while mom nets out all your help. IÂll bet it took me longer to try to make my vision come alive, than it did for your little mouths to undo it.
Jenny