HiHo from the Country!
taryn
(S Ontario Z6B)
September 15, 2006
Hi Idylls and Lurkers!
Its officially one month since weÂve moved, and I thought it was time to check in and share some thoughts and pics on the new digs.
I LOVE being a country bumpkin! Honestly, this place is just amazingly peaceful and tranquil. There is a plethora of wildlife! The crickets are chirping, all kinds of birds are singing, the cicadas are humming in the trees. Every day near dusk dozens of Canada Geese take a test flight from our bog and go squawking over the house, practicing for the real thing soon. One day we had about a thousand sparrows swooping over the field! The boys went running amongst this cloud of birds, arms outstretched and eyes bugging out of their heads! There are hawks, and silly turkey vultures, which will fly right into your car, and rabbits, deer and even coyotes. Will have to see what I can grow here with all these critters, though the neighbors have a lovely garden. Tons of bugs though! Note the fly strip hanging from the chandelier below! Good thing (I think!) we have lots of bats flitting around in the trees at dusk, eating all those mossies hatching in the bog!
Kitties are thrilled to be outdoor cats now, and chasing mice and frogs and having a grand old time. They are equipped with bells on their collars for the birds sake, Advantage to protect against fleas and tags with our phone numbers on them (for my peace of mind should they wander). Gumbo was hilarious the first few days, as he didnÂt realize we had LET him out and was skulking around like he was guilty of escaping, afraid to come inside in case he wasnÂt let out again, lol! Silly kitty is in his element nowÂ
The boys are doing great, and love it here. They are loving catching frogs, toads, praying mantises (mantii??) and bugs to feed them with. They like their new school, their teachers, and are making lots of friends. There are 6 boys within their age group right on our road, 2 minutes away, and they are all becoming fast friends! This is pretty awesome for a 2 mile road with only 16 houses, and saves me driving all over the place for playdates. Their parents are great people too, and we had a blast with them at our housewarming party last Saturday. DH plays bass guitar, new neighbors play guitar and sing, and old neighbor who came plays drums, so we tested out the jam hall and had a hoot! Honestly have not had that much fun in a long, long time, and it was a nice stress release. Other neighbors are all great too, and welcomed us with homemade banana bread and maps and guides to the local attractions, etcetera. People here are very pleasant, help out other people, and donÂt lock their doors. Far cry from the city...
House is great, though old so has itÂs peculiar quirks, and will need some TLC to bring it up to speed, mostly mechanical stuff like plumbing and drainage. We unpacked the last box one week ago today. We have a few issues with the previous owners, like the non-functioning water softener, but are hoping to resolve it quickly. Moving from a city lot with municipal water to a 2.5 acre country property with a well and a cistern and a septic system and 3 hog barns is a bit of a learning curve, but so far so good. Hope to check out the great camping, boating, rafting near Lake Erie and the Grand River a lot more next season.
Okay, a few pics:
Housewarming fun/jam in the barn: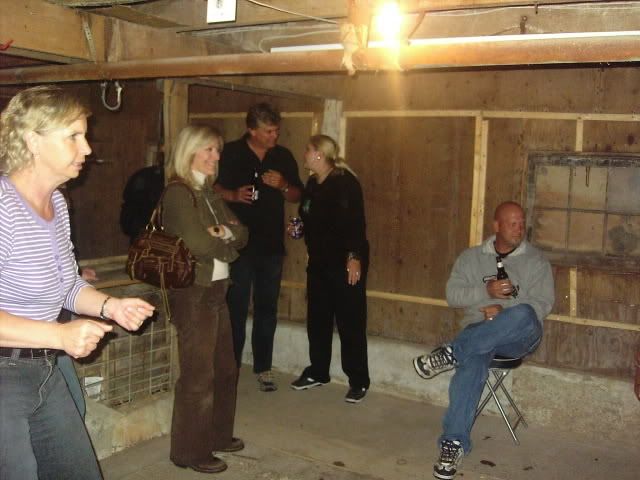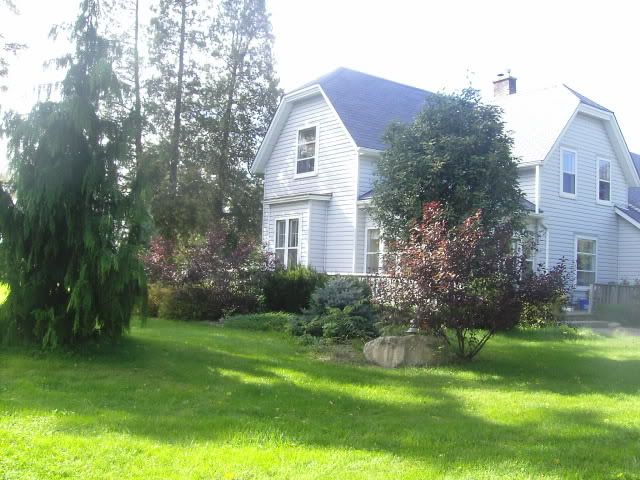 Got a major sweet deal on this white oak set for the breakfast room on EbayÂs free buy and sell site, Kajiji. $275CAD for the 9 piece set! I also sold some bunk beds and other stuff on there very fast. If you have stuff to sell or are looking for deals, check out Kajiji.com. ItÂs fast, easy, free, you donÂt have to register, and gets a lot of response.
My other big bargoon sectional couch fits the family room perfectly, though we move the chaise back a couple of feet when we play pool:
Boys are learning itÂs not as easy as it looks, but getting better. I look forward to having their friends hanging out here on a Saturday night as they get closer to the teenage years: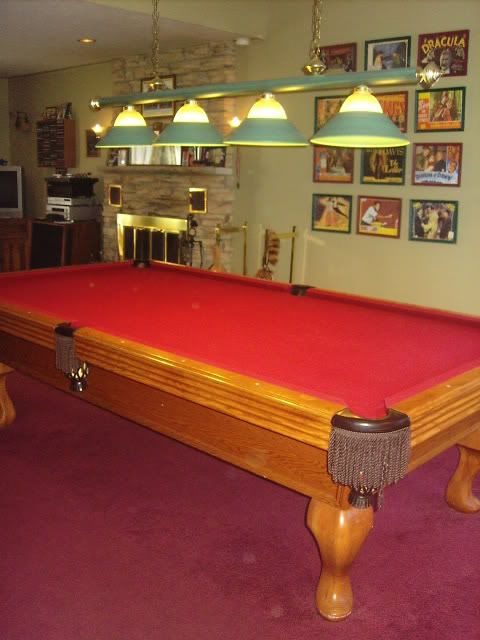 We finally have room for all our stuff!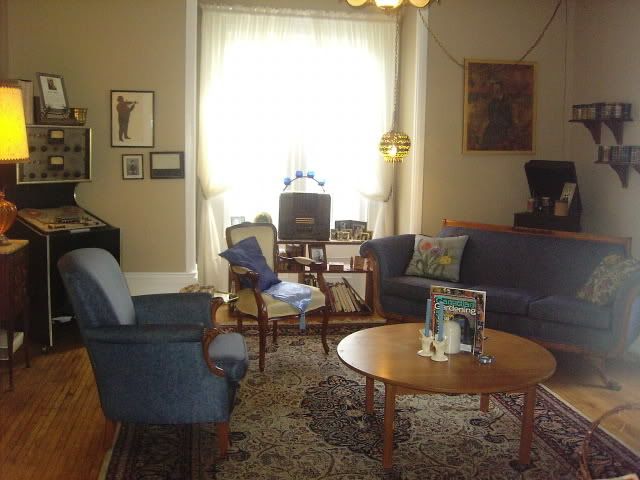 Glenn teaching Shane how to drive the tractor, while his new buddy looks on: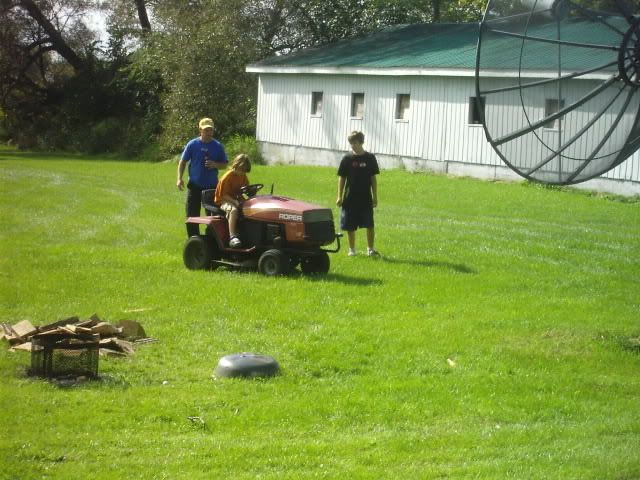 Lots of this 2.56 acres is still wild;
The bog:
Love this sun porch, but it is unheated so I need to debug and bring in my houseplants soon: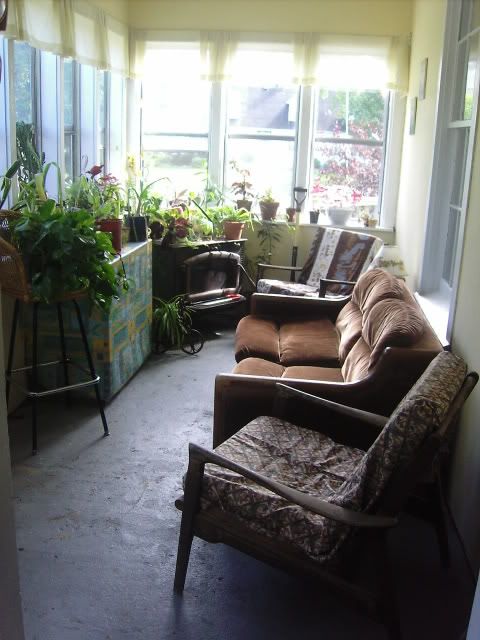 And the pot ghetto! I have my work cut out for me here! Then this old rabbit hutch and weeds will be ripped out too:
I have 5 loads of nice garden mix, 5 3.8 cubic yard bags of peat moss, and a big load of aged FREE cow manure coming at 9:30am tomorrow! The manure is from a guy on the next concession we are getting ½ a cow for the freezer from. Grass-fed, hormone free meat, cut and wrapped to spec, for $2.50lb CAD, PLUS as much free manure as I want! CanÂt go wrong with that! He also sells buffalo meat, which is a lot pricier though. Anyone use buffalo manure on their gardens before? LOL, life in the countryÂ
This is rather freaky. My late step-MIL did this woodburning plaque for us in 1992. She died in 1998. We really had nowhere to put it up at our last two houses, but I put it on one of my antique pumps at the front of the house here the day after we moved in. Then I took a step back, looked up and did a major double take. IT IS THE BARN, to a tee! From the shape of the building, the small windows, the trees up close to the right (canÂt see in the pic, but they are there) and the trees behind in the distance, even the direction of the driveway, it is like a reproduction of our barn here. 14 years before we moved in!
The plaque:
The barn: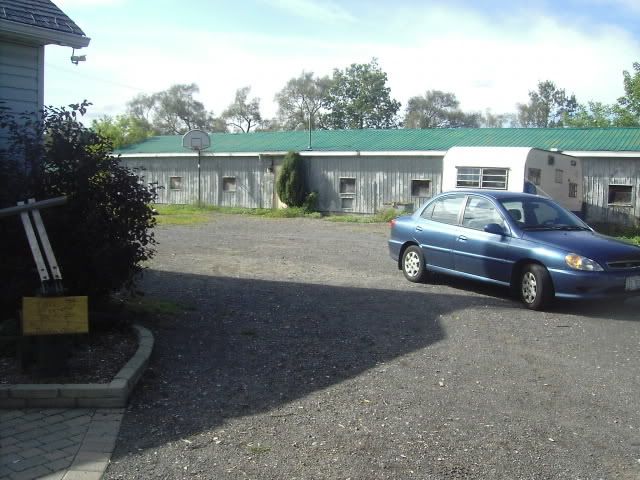 Rather freaky, but a good omen that we were meant to be in this place. After all the woes of selling our other house, we are now, finally, HOMEÂ
There are a ton more pics at link below, hope you enjoy the tour. Took me less than an hour to take them, but nearly 6 hours to upload them all. Dial-up is NOT one of the perks of the country, lol. Takes about 20-30 minutes to load an Idyll thread as it nears 100, longer with lots of pics. I've skimmed here and there, but haven't wanted to tie up our line with RSVP's on the housewarming party and dirt deliveries to be arranged, lol. Okay, gots to go, to be ready to lasagna new garden beds and play in the dirt tomorrow morning, then have a BBQ at my sister and her beau's place in the afternoon. Best to all and hope to join you all again on Idylls soon.
Cheers,
Taryn