Marie's Garden through my Lens and other ramblings
vtskiers
(z6a CentralCT)
September 21, 2006
Unfortunately I get a little lazy when Deanne is around and has her camera so I only took pictures at Marie's...lol. However the entire weekend was a blast starting with my arrival at Mary's on Friday morning. As many of you know, I'm not a big fan of airline travel. It's been years since I've been on a flight that has been on time and this weekend was no exception. On the way out my flight was delayed for an hour (the whole flight is only a little over an hour) because of a "maintenance" issue. From what I could gather the issue was a broken seat and the remedy was to tape a piece of paper on it that read "Do Not Use". The procedure must be top secret because they made all the passengers get off the plane and wait in the terminal while the repairs were made. Good freakin' grief!
On Friday, Mary, Deanne and I went out gallavanting. We enjoyed a scrumptious lunch at a restaurant with a Spanish flair. Mary and I had a shrimp risotto with aparagus and all sorts of other yummies. Deanne must of known there would be plenty offood to come and had a salad. After that we hung out at Starbucks then hit the Japanese Maple nursery where I finally trapped one of those elusive Hydrangea quercifolia 'Little Honey'. After dropping Deanne off at her hotel Mary and I made it back to her house just in time for a quick change and a drive to the evening's events in Rochester. Compliments of Mary's DH (who was also a speaker), we all attended a lecture and gallery exhibit at the George Eastman house for a well known photographer, Pete Turner. If you'd like to see some of his pictures, I've included a link to his website below. Following the lecture, we sipped wine and snacked on a variety of tasty tidbits then danced off to dinner at a Chinese place.
On Saturday morning it was off to Marie's, first stop Woody's for lunch where we were joined by Marie and DH. I think it was about a two and a half hour drive from Mary's to Woody's, more for us because we missed an exit. Oh well, time flies when you're having fun. At least there was no border backup. We really lucked out on that because it looked like hours coming from the other direction. Woody's garden is just as charming in person as it is in her pictures. It is just so much fun to visit gardens that you've seen from so many angles but never as a whole. After the grand tour we were treated to the most delicious lunch of cheeses, fruits, shrimp cocktail, quiche....and this incredible flourless chocolate cake for dessert. Woody and her DH are accompished cooks and gracious hosts. The afternoon flew by and it was time to make our way to Marie's.
You saw the pics of the incredible dinner Marie made for us on Saturday night-paella, salad, and a chocolate hazelnut torte. Idyllers aren't just fantastic gardeners, but fantastic cooks to boot. Eating in moderation be damned, I was stuffed but ate every bite. Marie basically turned her charming farmhouse into a bed and breakfast. My room was Marie's study. Something tells me that's where the cats usually hang out.
This little girl was lots of fun. Is this Vita, Marie?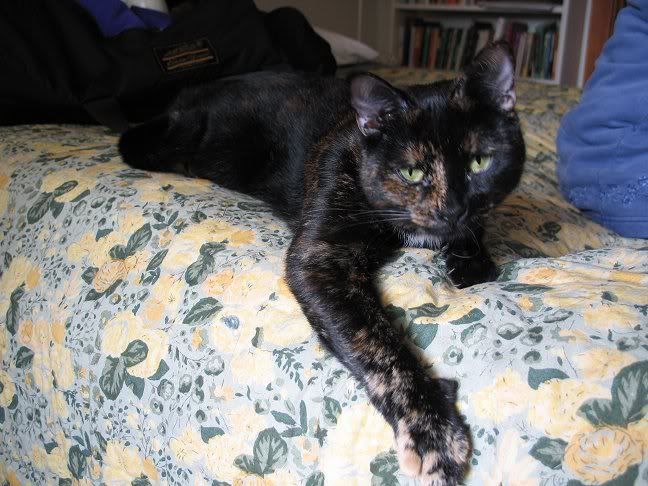 This one thought she was going home with me.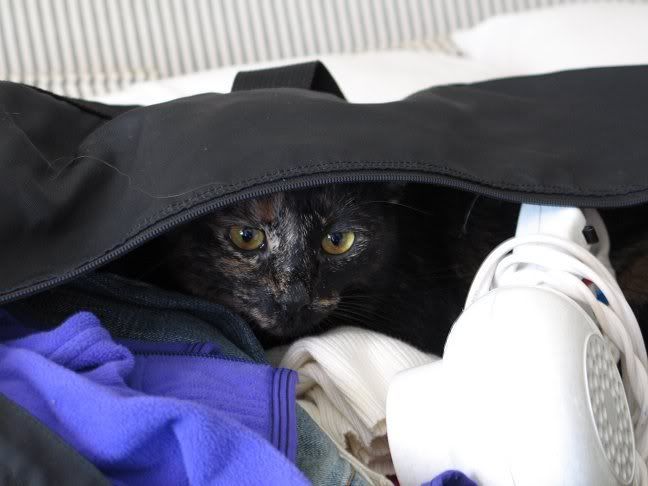 This guy was shy but I managed to get a fleeting shot.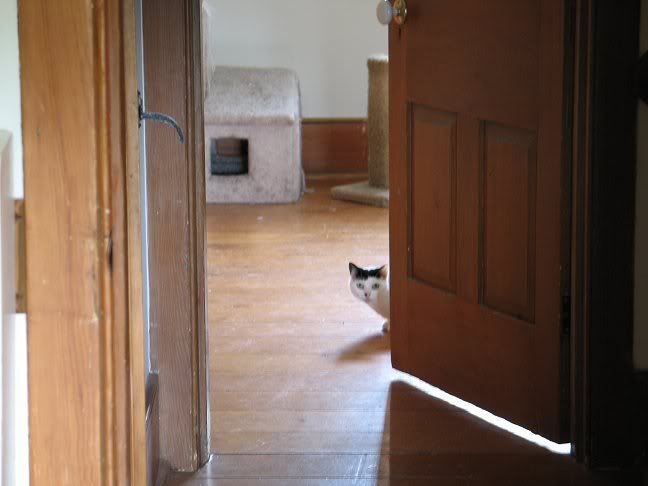 I've forgotten how much fun cats can be. Tom is deathly allergic so we can't have them here.
Anyhoo, on Sunday morning the light was perfect for pictures and the gardens were cloaked in a beautiful morning mist. Every view is picturesque unlike at my house where you have to angle every shot to keep out the neighbor's houses, cars, trash cans, kids toys, etc, etc.
I love this barn. You can't take a bad picture of it.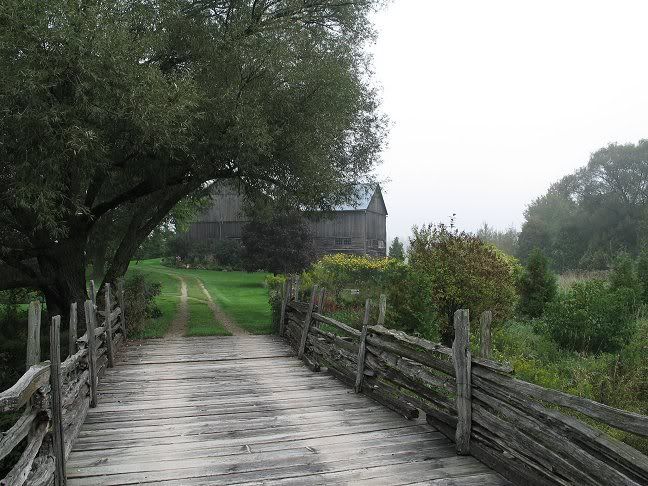 Here's the view from the other direction with Marie's latest island bed in the forground.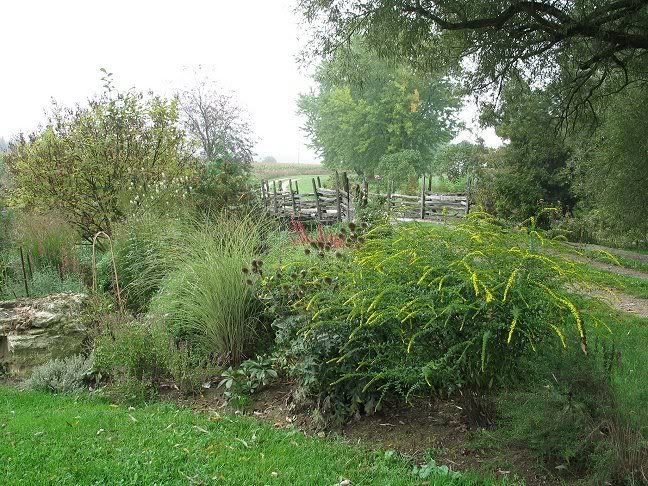 Spiderwebs were everywhere. It must be a banner year for arachnids. Arachniphobiacs beware.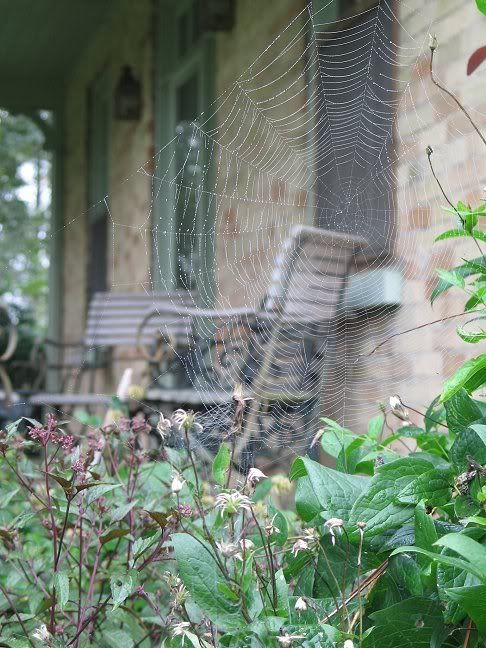 The shade garden side of the house where the Hellebore bed bursts into bloom come spring.
Another current year project, the vegetable garden. We feasted from that for dinner Sunday night.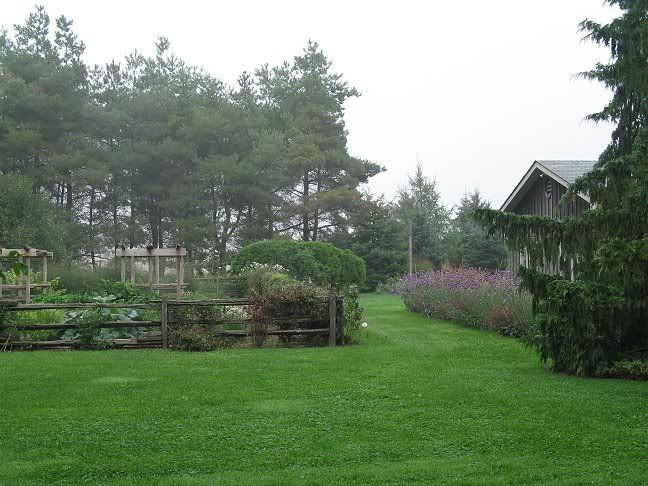 A wide angle front view. We enjoyed breakfast on that porch on Sunday morning.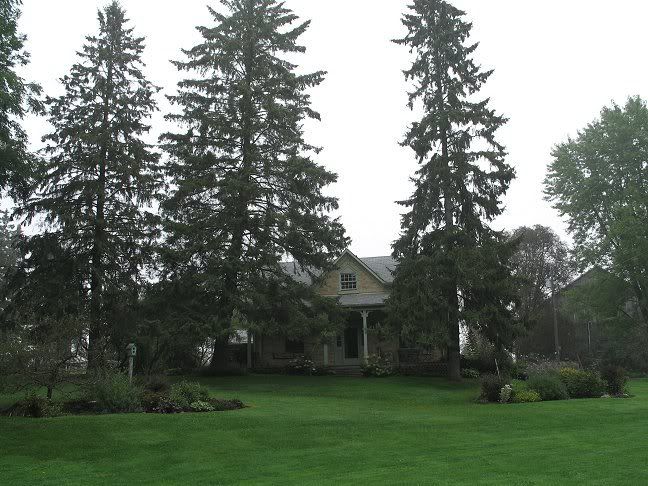 Oh look, Marie has a pot ghetto and what a surprise, it's filled with Clematis.
My favorite-the shade border. Marie has it chock filled of texture of foliage contrast and color. The picture doesn't do it justice.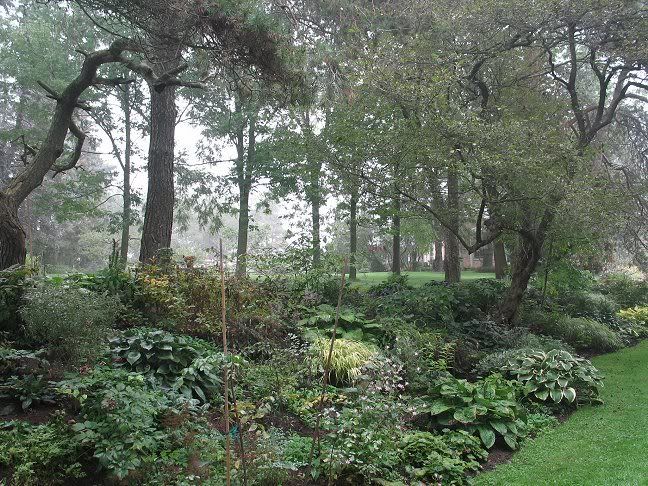 OK, that's enough from me. Deanne has more including the Sunday travelogue. I'm late for bed-don't want to chance turning into a pumpkin with Halloween so close.
Enjoy!
Sue
Here is a link that might be useful: Photography of Pete Turner