Sick Sweet 100's Seeds?
syntria
(8a - South DFW Area)
January 26, 2014
Hey!
So I've grown from seed for a few years, but generally all my seedlings get stunted and die or I fail to water them properly or whatever else. I've had a little luck with cantaloupes, cucumbers, and tomatoes from seed.
This year I want to do marigolds, milkweed, other flowers, tomatoes, tomitillos, peppers, runner beans, corn, beets, radishes, onions/potatoes (I've had good luck with them, of cours enot really 'seeds'), and several others.
This year I have a seed heating mat, dome, and trays and they are doing fantastic!
However my Sweet100's took over 10 days to germinate while everything else around it (flowers/tomatoes/peppers) germinated much sooner and when they did germinate, they have yellow leaves.
I have a few that have leaves that have little brown/dried up ends to them. I believe the soil is adequately moist without being wet, though perhaps the heating mat is to hot? I believe they're around 80-85 degrees.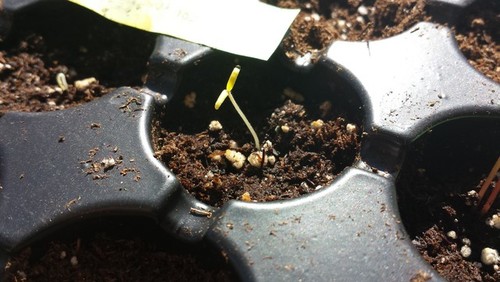 Here is a link that might be useful: My Gardening vlogs