Fish and water lillie pics
koijoyii
(NE Ohio)
June 18, 2008
Here are some recent pics I took of my fish. Had to use the sports setting. They (fish) are too fast. If some of the pics look alike it's because the camera keeps snapping to capture the action.
The fish in the upper left hand corner is my favorite. I lucked out at Pet Supermarket when they had buy one koi get one free. Didn't have a selection though, since they only had two left. I kept them in my basement over the winter till I put the pond in. Didn't look at all like it does today. Colors were very pale till I put it in the pond. The one in the lower right corner I call Sherbet/Freckles because the colors are so light. It's head is a pale salmon color, most of it's body is white with black freckles. The little orange one in the middle is one of the one-eyed shubunkins I rescued at the same time. They were going to feed it to the snakes. How does it repay me for rescuing it? With lots of babies of course.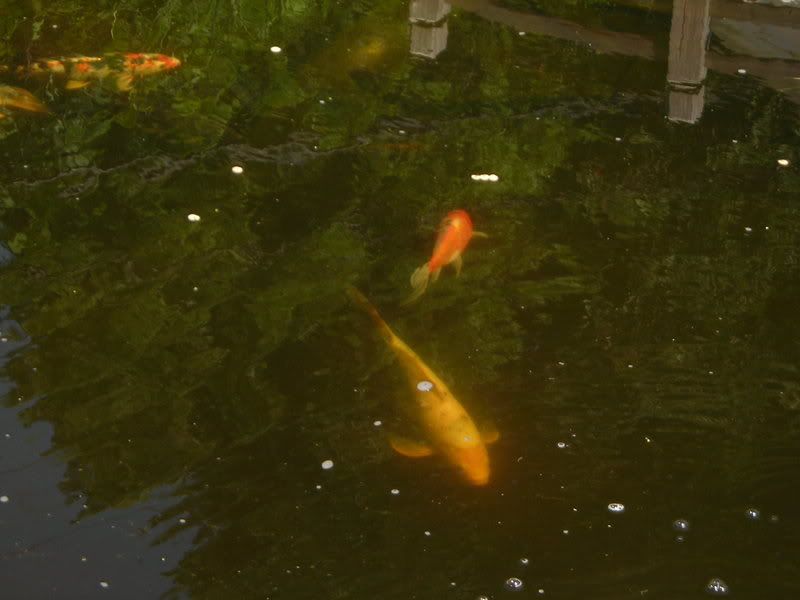 This fish in the center of this pic has a flourescent orange head and the rest of it's body is black and gold with the shiny (what I think are called "ginrin") scales. I have a "mule" that is black with "ginrin" scales thanks to the one-eyed shubunkin.
You can see it much better in this pic. When the sun hits it sometimes the scales reflect so bright it hurts your eyes. I have a pic I can't post because of the reflection.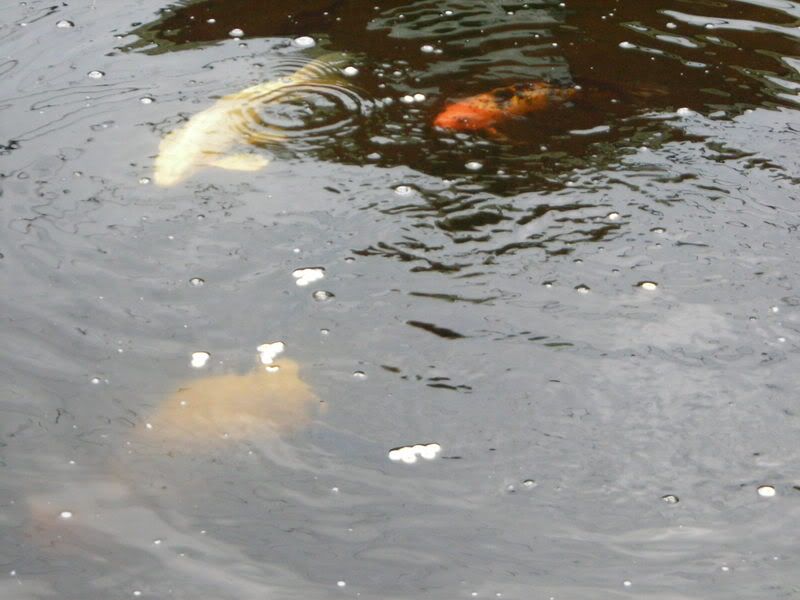 Here it is again in the top center of the pic. The two ghost butterfly koi were not supposed to be twins. When I bought the two of them one had a big orange spot on it's forehead. It faded with time so now I have two ghost kois. Of course that darn one-eyed shubunkin has to get in every pic! lol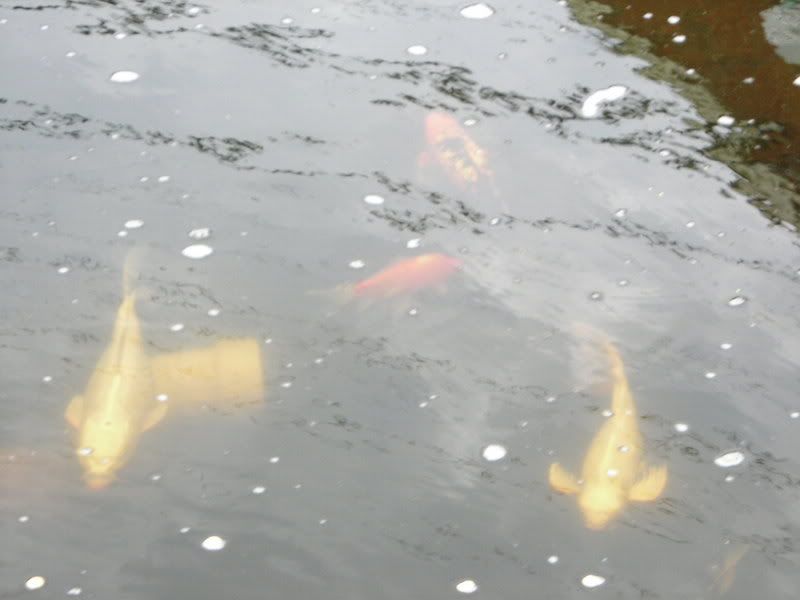 This is the best pic of the koi with the "ginrin" scales. Haven't named it yet. Maybe I should call it Sparkles or Reflection.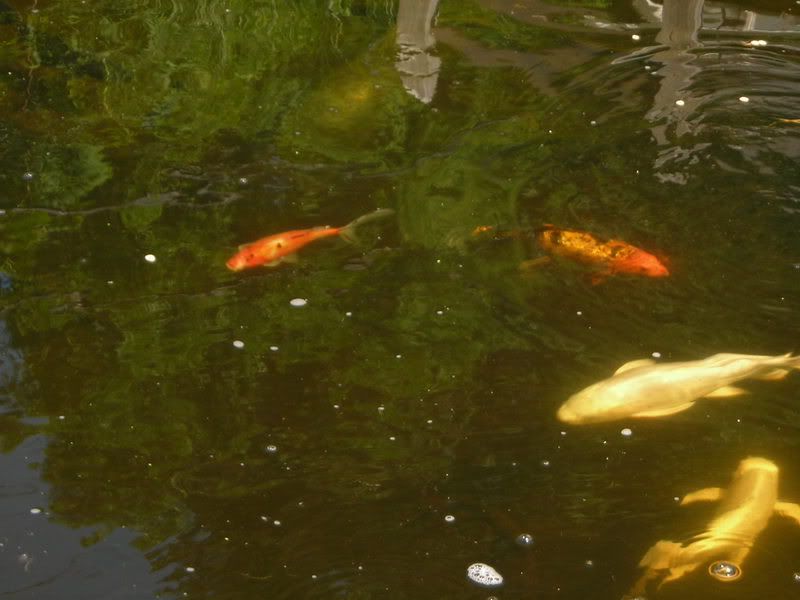 In the center of this pic you can sort of see my all black koi in front of Sherbet/Freckles. I think I have baby black koi, but they are too small to tell if they have barbels yet. One all black koi and one all white koi are supposed to represent good luck according to Feng Shui. I just had to have one of each. I drove the guys nuts at Trickers. They would bag the fish and I would see a black spot on it and have them dump it back and net another one.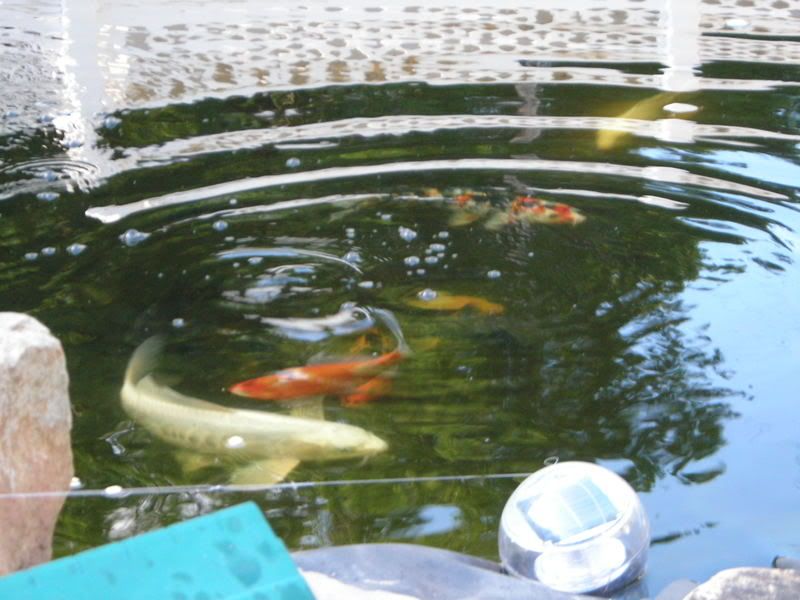 I took these pics of my lillies at the end of the day before they closed up. They are kind of dark, but you can still see the blooms. I used auto-fix on Photobucket and clicked on save a copy but when I posted them here they are still dark.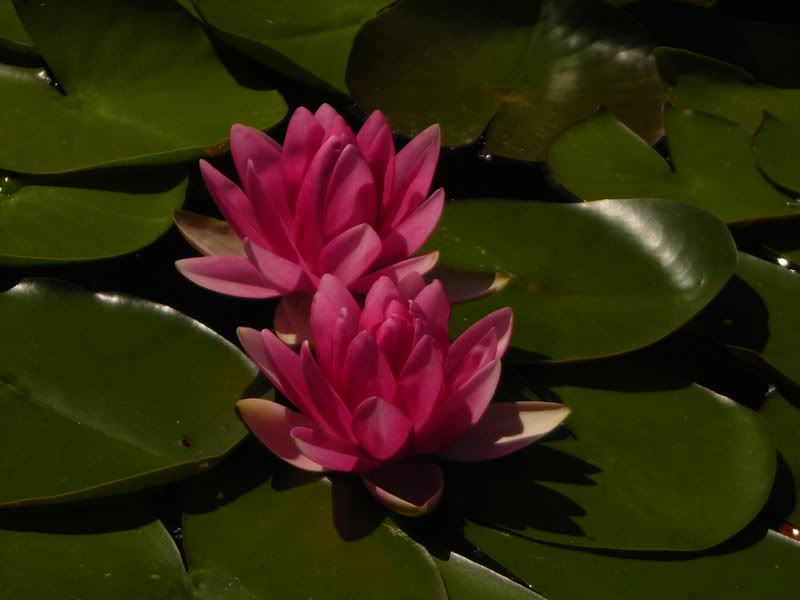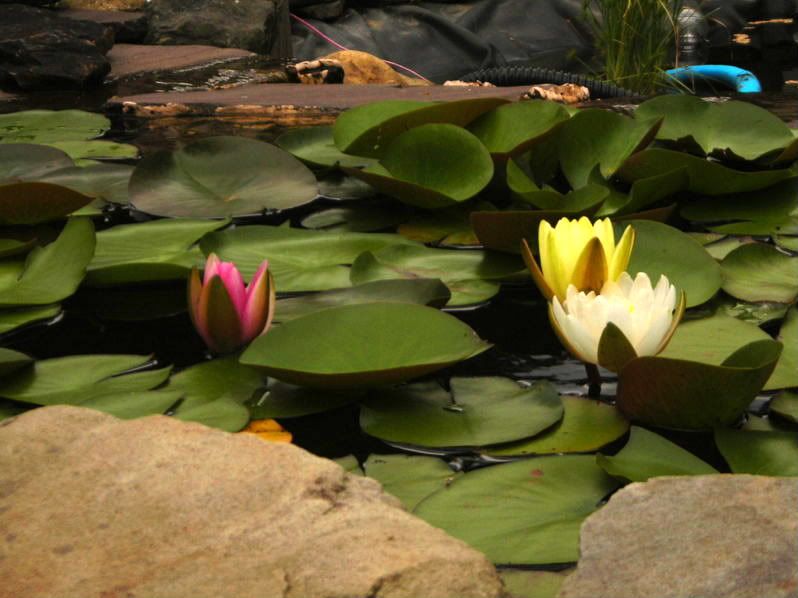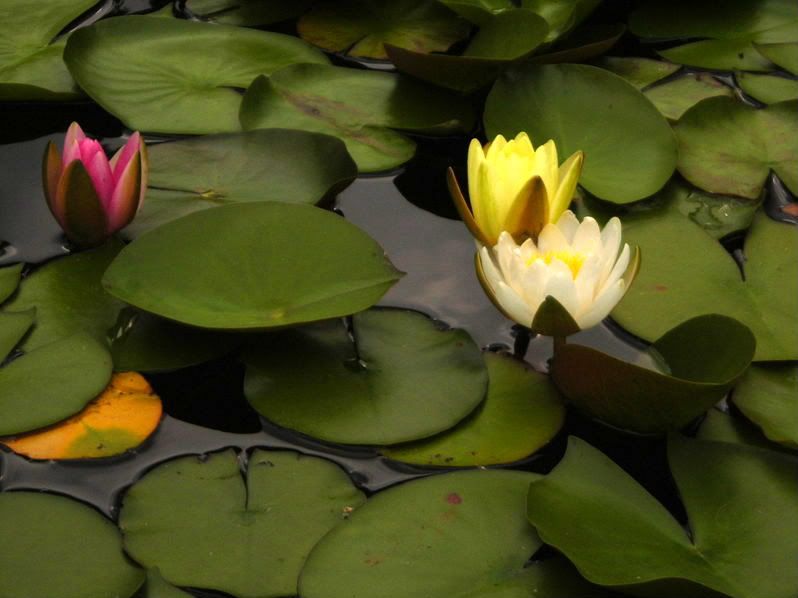 Three more buds just waiting to open.
Hope you enjoyed!
Jenny