Road Trip - Getty Malibu (extremely photo heavy)
denisez10
(SoCal)
December 7, 2008
Shake off the snowflakes and join me for a quick tour. This is the original Getty in Malibu, which had a major renovation a few years ago. My first visit since the renovations. It sits on a bluff directly above Pacific Coast Highway, nestled tightly amongst neighborhoods that have grown up around it, so the former major issues of limited parking have been addressed in the rebuilding. Admission is free but reservations must be made since parking is still somewhat limited. The new Getty designed by Richard Meier, which has a fabulous garden designed by Robert Irwin, is at an entirely different location.
Herakles is on the banner, holding the lion's skin, the sculpture that really fired up Getty to begin collecting Greek, Roman and Etruscan antiquities in earnest...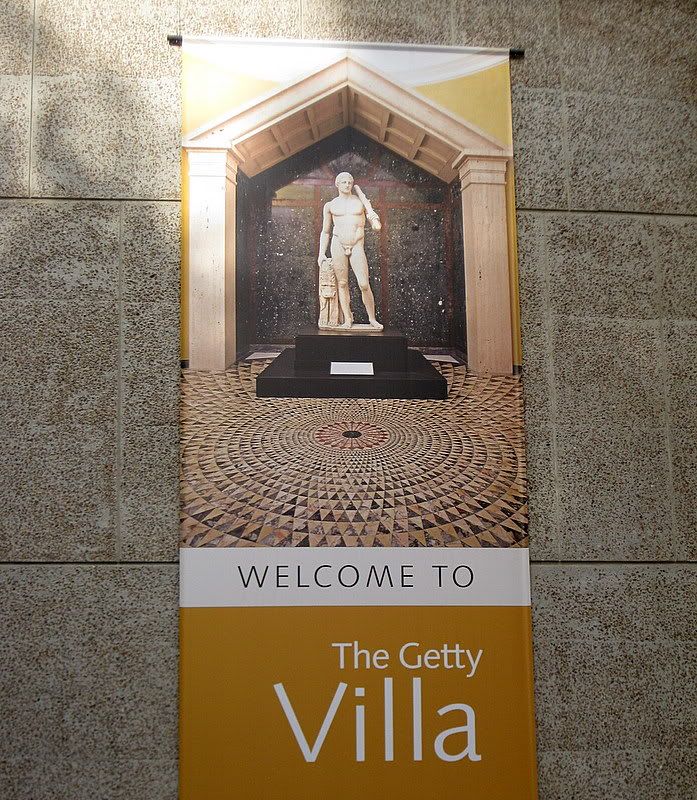 Looking west, to the ocean and Pacific Coast Highway, out over the herb garden. Yellow leaves in lower right-hand corner are the pomegranate, which turn that lovely gold color.
Mainly outdoor shots, since flash was not allowed in the museum. But the gardens are what I really love anyway. And the pottery. And the mosaics. Well, all of it really.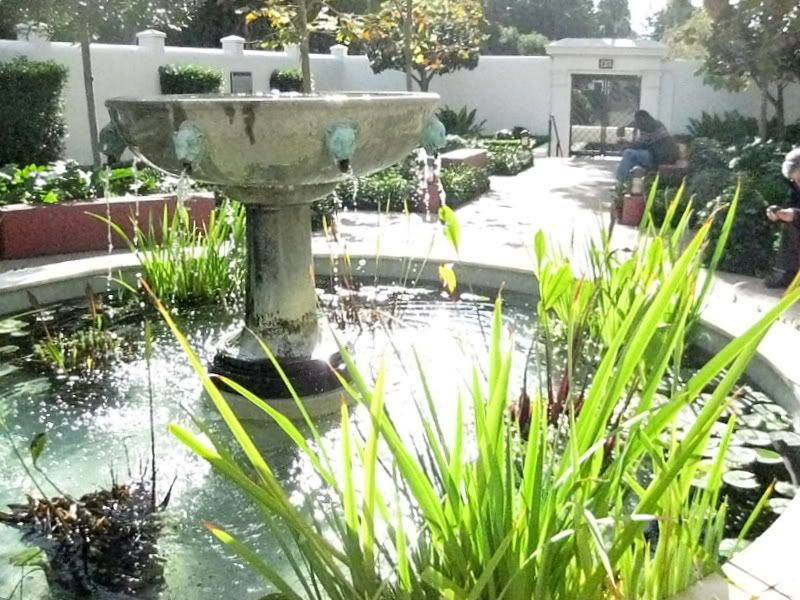 The Getty is a replica of an ancient Roman villa, the Villa dei Papiri, excavated in Herculaneum, which was buried in the same eruption of Mount Vesuvius that buried Pompeii.
Plants include myrtle, box, medlar, olive, citrus, bay, papyrus, acanthus, rosemary, violets, pomegranates, lavender, Italian cypress -- everything the Romans would have grown. I love the detail of the moss grown under the tree standard, with only the rim of the pot to be seen.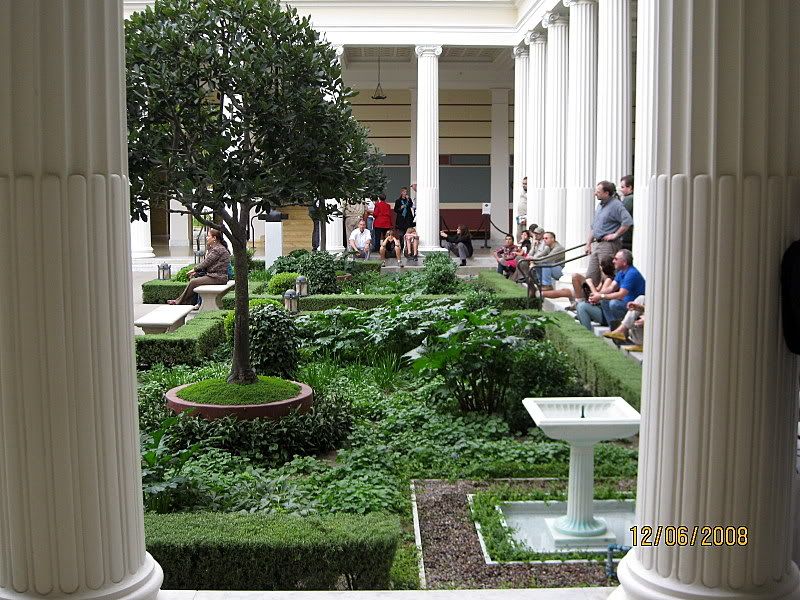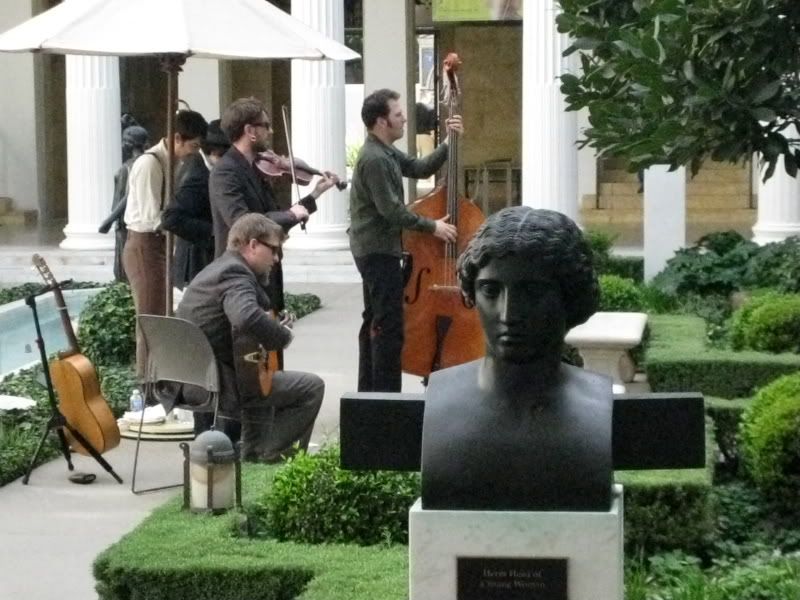 Long view. Note the ivy topiary in foreground. This is all part of the original Getty, the recreation of the villa at Herculaneum, though new additions include an amphitheatre, museum shop, parking structure, more storage and teaching facilities. The hills seen in the background are prone to fires, and the Getty has had some close calls.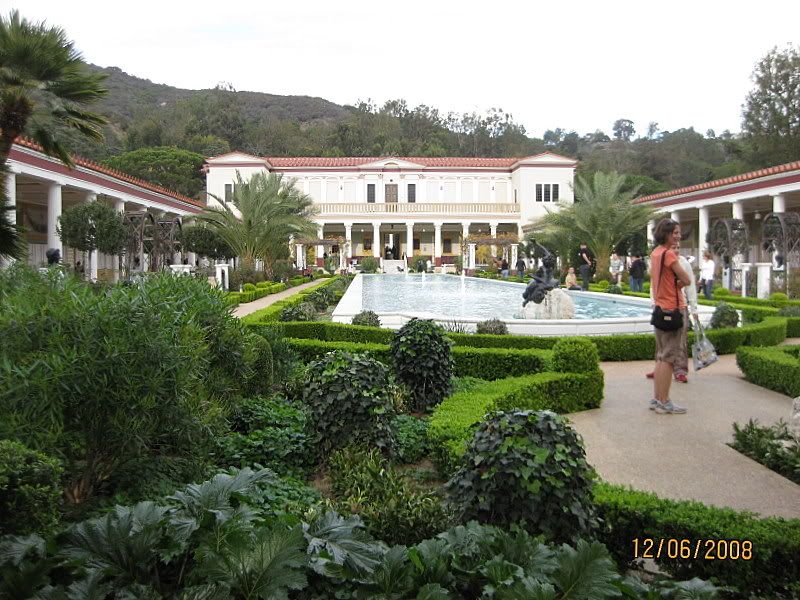 dripping rosemary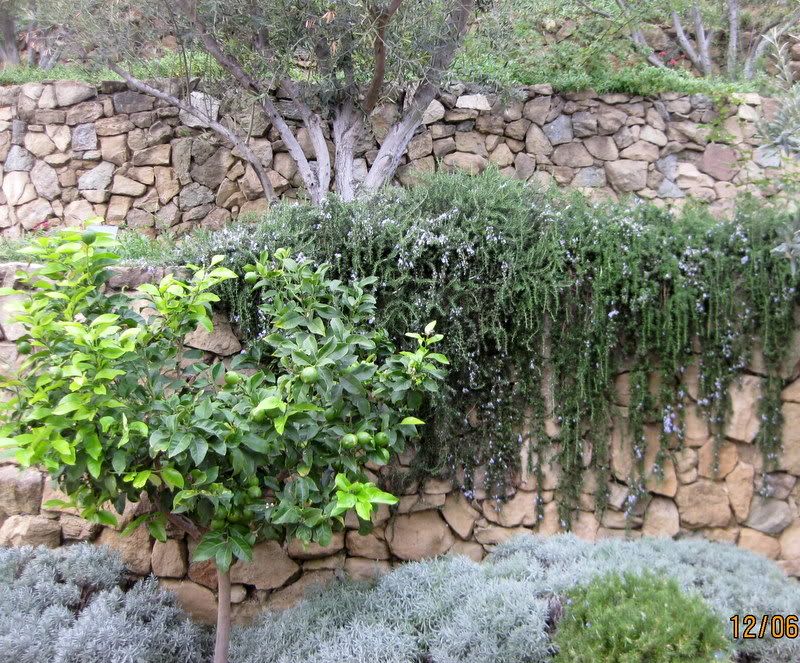 olives and cypresses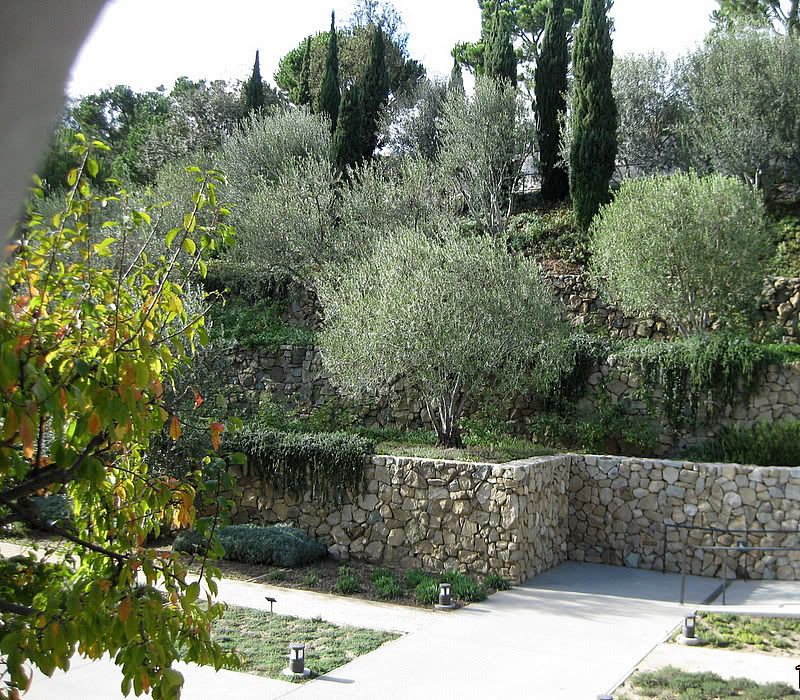 detail of the formal planting. There wouldn't be much more color than this in summer either. Formal Italian gardens are predominantly green. In contrast, the Robert Irwin garden at the new Getty is exuberantly colorful. The little marble fountain is an 18th century reproduction.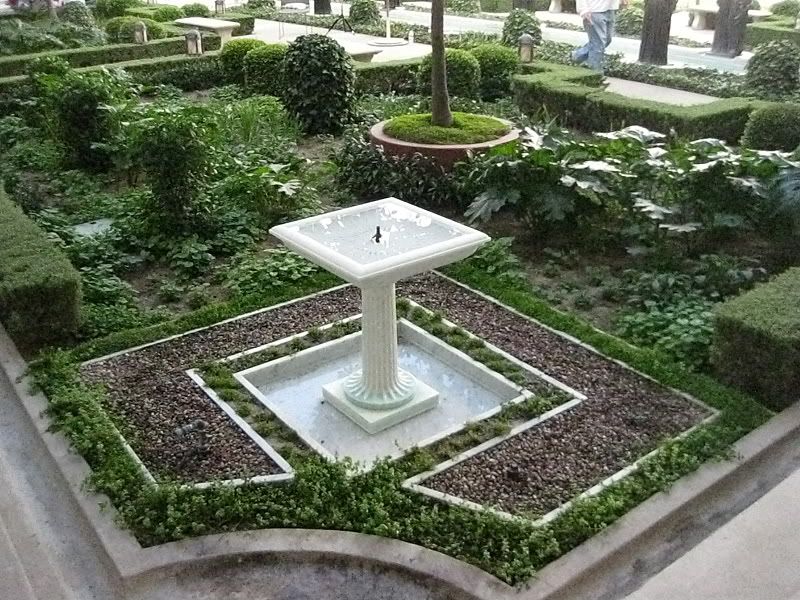 Along with the box and myrtle, ivy was used for topiary balls, which I've never seen before, but would be amazingly quick effect, unlike box or myrtle
Huge stone pine. Part of the new additions.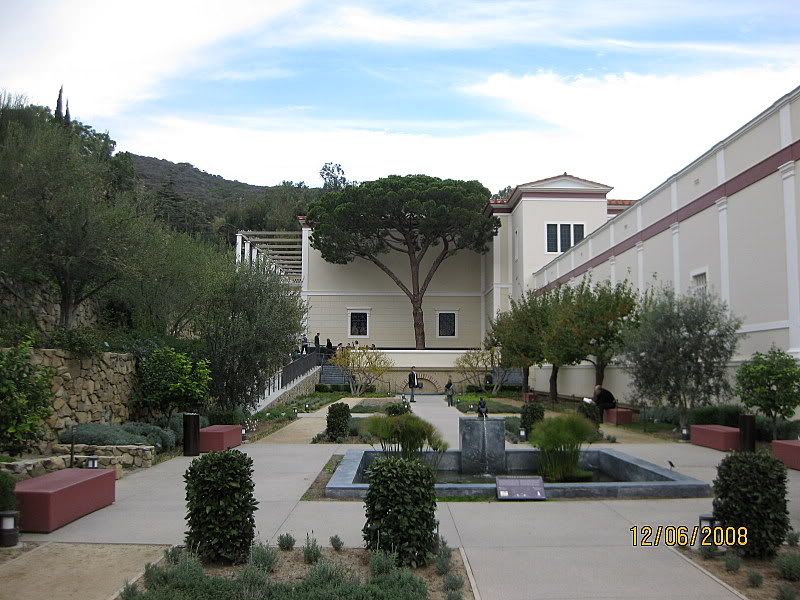 Closeup of fountain with papyrus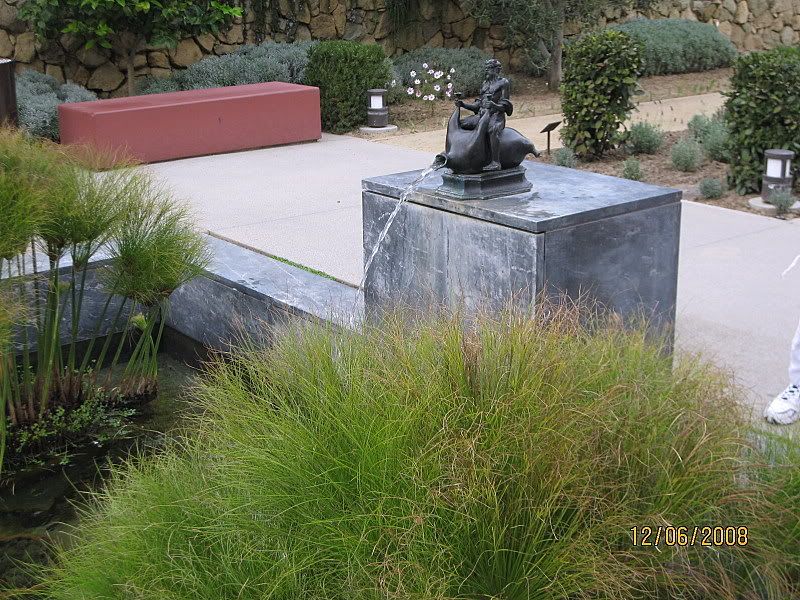 Oleander standards, lavender in right foreground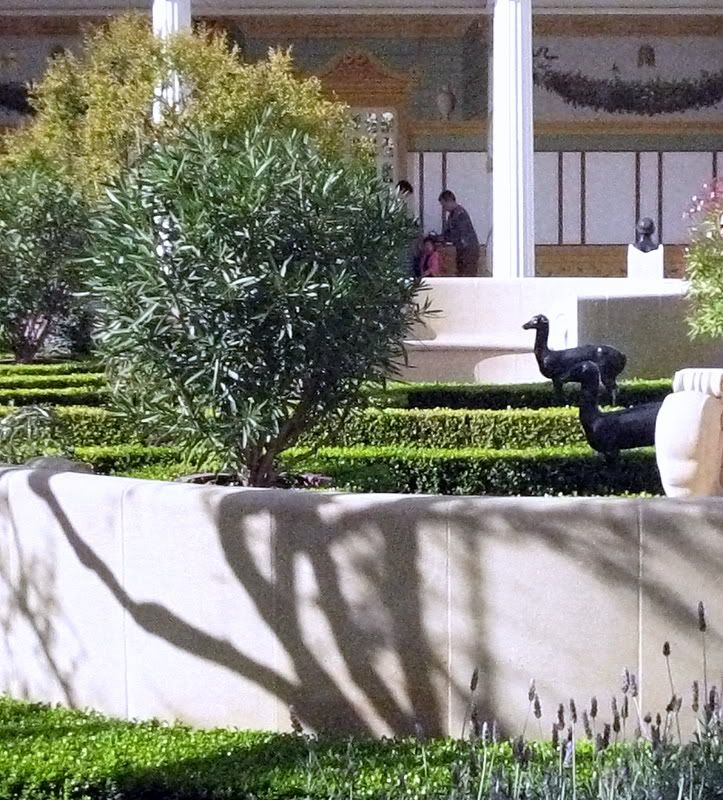 Mitch was assisting with a family day event at the Getty, helping kids make Trojan paper helmets. If he hadn't been so engaged, the photos might have been much better. Oh, well, point and click it is...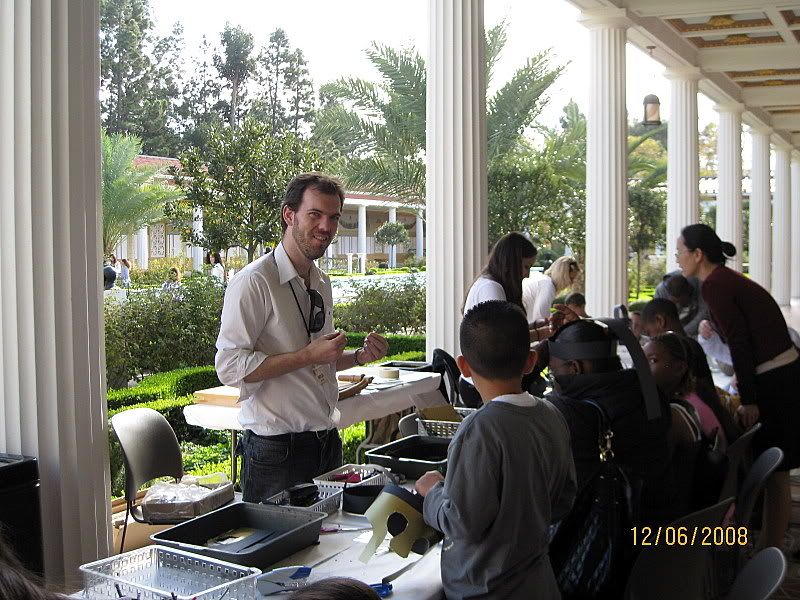 Lavish trompe l'oeil
And marble everywhere
Fountains -- plant in background up against building is Pelargonium tomentosum, peppermint geranium
detail of fountain creature
Mosaics
Medusa mosaic
requisite bum shot
after lunch, Mitch had to get back to making helmets
Here is a link that might be useful: The Getty Villa gardener