Are my boxwoods worth saving?
Hello all!
I'm hoping that I can get some advice on our boxwoods. We just purchased our home in August. Along the front of the home, beneath the front window, there is a row of boxwoods(about 6 of them). They are all approx 3.5ft tall. I'm debating whether I should just pull them all out or if they are salvageable The issues they have are....
1. They appear to have been pruned badly for a long time. They are very dense on the outer edges and only have an average 3-4 inches of green into the bush. The inside is just bare branches.
2. One of them is completely dead and its one of the center bushes....do I just pull it and pull the others in to fill the gap?
3. They all have yellowed considerably over the winter on the tips. Is this normal for boxwoods? This has been such a rough winter.
Do you think that they can be saved? Are they worth saving? What steps do I need to take?
I appreciate any advice! Thanks in advance!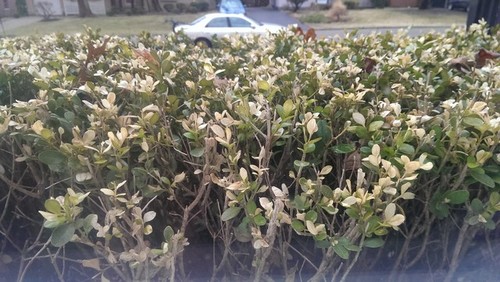 This post was edited by abruyer on Wed, Mar 19, 14 at 21:36