First out of the Gates
Desertgarden- Las Vegas, Z8b @ 2800 ft.
February 27, 2014
Like many of you, I live in one of the places where the season has begun. The local nursery is filled with potted roses, annuals, perennials, potted tulips, herbs, and veggies.
First out of the gates, but it is of no surprise - " Don Juan"! There are numerous buds on this climber, but yesterday I happened to walk my yard and discovered two opened blooms thus far.
Please forgive the image as in person, the rose is a much deeper darker red.
I am eager to see the first blooms on Twilight Zone, Bolero, Carding Mill, and Reine des Violettes, all of which are new to my garden.
Which rose was the first to bloom in your garden? If you are still waiting, I suspect you garden in one of those areas where you can grow Gallicas, peonies and a bunch of beauties I wish I could grow. If you had to guess, which of your roses do you think will bloom first ? Which ones are you most looking forward to seeing?
Lynn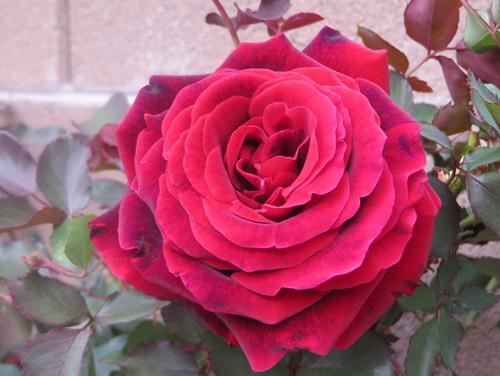 This post was edited by desertgarden561 on Thu, Feb 27, 14 at 20:31