Growing Black Oil Sunflowers
Hypochondriac
June 13, 2014
I'm trying to grow black oil sunflowers. I need some help. Completely new to growing.
I placed seeds in peat pellets. Placed a few under the dome of the box they came in. Placed another in a ziplock bag near a heating source. The one in the ziplock has germinated. Picture attached.
Now what do i do? several sites suggest different things. Some state i should keep it in the bag until it grows more, others suggest add potting soil to the bag and place the pellet in that. one also mentioned placing it in the garden as is.
Rather then use fertilizer can i use coffee grounds in the soil?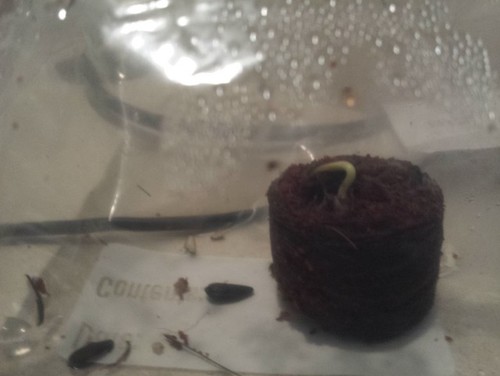 This post was edited by Hypochondriac on Fri, Jun 13, 14 at 9:16