Tomatos: Hair to roots?
bugbite
(z9a FL)
June 3, 2013
I realize this is not the tomatos forum but I made a comment in a post in this forum that if tomatoes are transplanted deeper that the hairs on the stem develop roots.
But luckily Flora_UK challenged that, researched it and found that ...It is not the stem hairs, but root primordia, that become roots.
In the link (very bottom of this page) is a picture of the difference. A very cool picture.
I also stated that some folks (for example, me sometimes) transplanted tomatoes of their sides to get more roots. I happened to pull a tomato plant today where I planted a lot of it (about 12 inches) underground when I transplanted it. Here is a picture of the roots all the way up the stem that was buried. Note the small root ball and the extra roots that surely helped the plant.
Bob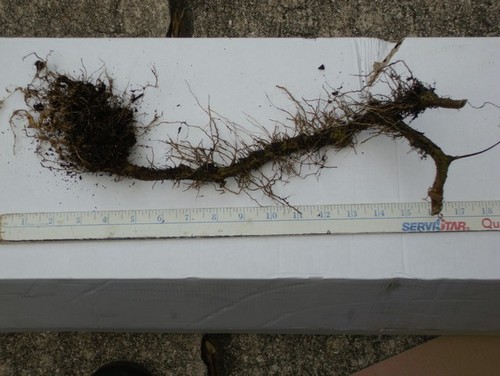 Here is a link that might be useful: excellent picture
This post was edited by bugbite on Mon, Jun 3, 13 at 15:12