Too many morning glories planted in pots?
I'm new to gardening, this is only my 2nd year. I wanted to create a screen between me and my neighbor with the morning glory, but I think I put WAAAY to many seeds in my pots!
I have one of those long window planter boxes (?) and I have about 20 seeds in there, most are morning glory, some are moonflowers.
I also have a bunch of 8" pots, and I put 9 in each of those, again mixing moonflowers with morning glories.
Did I plant too many, I have about 12 ropes for them to climb on, maybe about 4 or 5 vines per rope when they get big enough.
Are they going to end up choking each other out, or is it kind of the more the merrier as long as the vines are all getting sun? Should I pinch a few? (which I am dreading doing, they all look so healthy with the exception of a few that got nibbled on, and I hate to kill off any living thing, but I have no more room for any more morning glories anywhere)
Thanks for the help in advance, any advice is appreciated!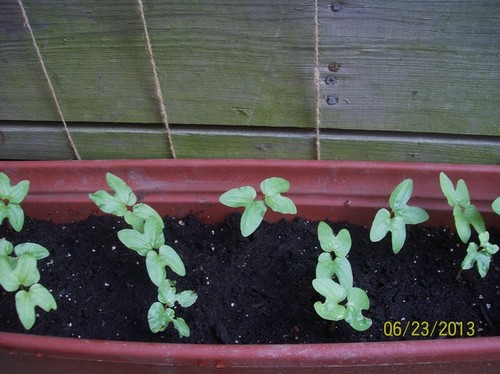 This post was edited by AshleyG on Tue, Jun 25, 13 at 17:55