Shrubs and very small evergreens/tree for front yard
Liz321
(6 - Detroit Metro)
May 1, 2013
I need assistance in what type of shrubbery and small evergreens or ?? to put in the southern exposure yard. The previous owner ripped out the 50 year old giant shrubs that were as tall as the house, and stuck in two little ball things that died within the first winter. There are two yuccas, and three grasses left from the original landscaping.
I transplanted hostas, daisy, iris and sedum to the area to fill it in for now. It has been two years and the it is just too hot for the hosta with full sun. There is the one tree that isn't big enough to shade the front garden and the sun is 8 hours a day.
I am looking for something that will maintain some interest in the winter, but not get too big.
I love roses, but I don't know that they would fill out enough for the long falls and winters in Michigan. I was considering something taller for in the corner but is that spot too close to the foundation to do anything tall? I am so confused.
I have a ton of thriving Iris, and sedum and ground cover, but the tickseed, hosta and are all ready to be moved or rearranged to make room for serious landscaping.
I also wouldn't mind changing the shape of the bed by bringing it out or curving the edge or adding a trellis. The left of the porch that runs back to the sunroom actually is packed full and looks fabulous when it is grown in so I'm less worried about that. I want Curb Appeal!!
Please please I need ideas. I like unusual.
http://www.flickr.com/photos/organize/?start_tab=one_set72157633097949564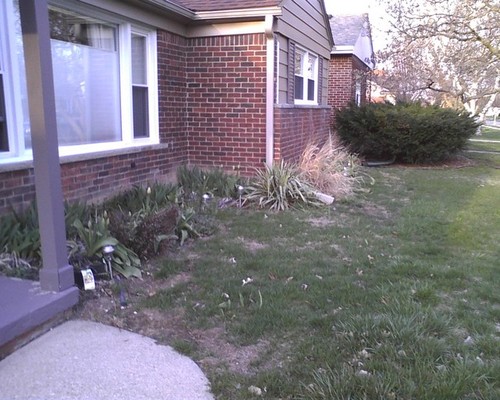 Here is a link that might be useful: pix to help