More health issues... PICS
Heather1970
(utahzn5)
September 3, 2010
If it isn't one thing, it's another. I've had one koi with a sore on her side, due, I think to ammonia problems I had this summer. I've got the ammonia under control now (unless I just jinxed myself) but the sore is quite slow at healing. It isn't huge or too angry looking right now but it isn't getting better. I ordered some wound scrub from Pond Doc and planned on treating the fish next week when it gets here.
Now I've had something weird pop up. I went out to feed the fish this morning and my orange koi has a big blistery looking thing on his eye. It wasn't there two days ago, at least not at a size that I noticed.
I got some photos. One, with both fish problems in one shot, and some close ups of the two issues. The blistery thing has me stumped.
Any thoughts, suggestions? I have a packet of Tricide-Neo that I could use if it were appropriate. Other than that, I will just have the wound scrub next week and I have some Jungle brand Anti bacterial medicated fish food. I have not been able to find Koizyme around here and I have, over the last month, done several melafix treatments - at least 7.
Sorry about the size of the pictures, I cropped them in photobucket but they don't show up cropped (or rotated as in the case of the white one).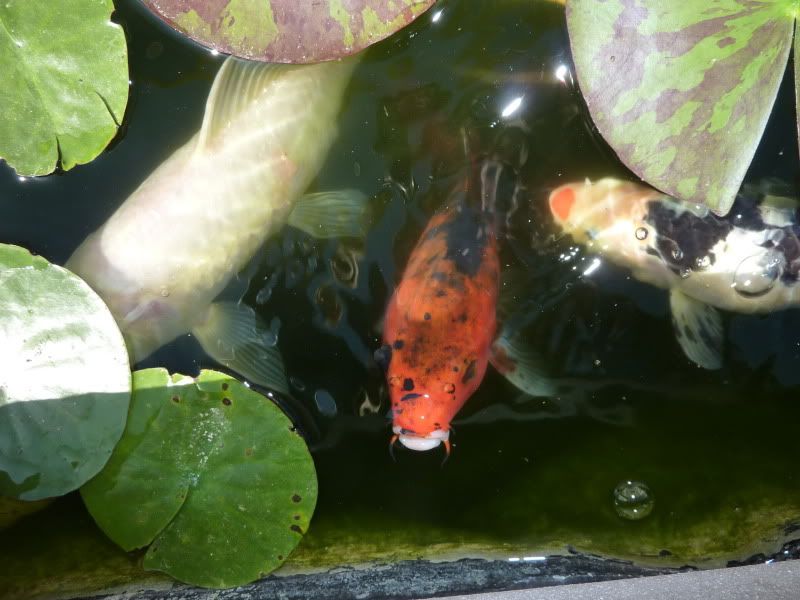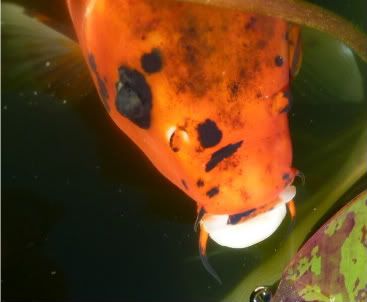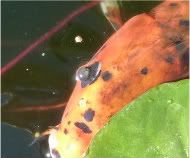 While I was waiting for photos to load, I was googling fish eye blisters - do you think it's Koi pox? I know my water is murky, but I've been really good about water changes and filter rinsing.