Fish and pH
napalm_beach
September 14, 2013
I have a new pond, about a month old, and last weekend I introduced some comet goldfish. Comets seem to be successful pond fish around here.
I floated the bag of fish in the pond water for a couple of hours to bring the water temperatures closer, then released them into the water. They all died almost instantly. One lived about 72 hours and he was the last.
I bought a water testing kit and checked out okay for phosphates, amonia, and nitrites, but the pH reading was above 9, how much above I'm not sure. Regardless, I've got very hard well water in the pond.
Could high alkalinity cause the fish to die so quickly? What is the best way to bring the water into better balance? I have been reading that chemical solutions can cause "pH crash" and cause even more problems.
Pond photo attached... thanks for your help!
Photo sucks: it starts as a waterfall at the top, which falls into a ~15' stream. The stream narrows to increase velocity when it goes over the second, short falls into the upper pond. There is a narrow cascade down into the lower pond, which is about 12x17'. I dug it too shallow so the whole thing is about 1,000 gallons, I think.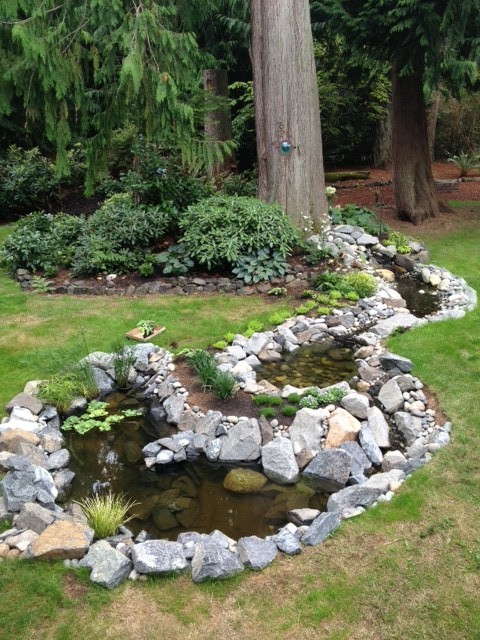 This post was edited by napalm_beach on Sat, Sep 14, 13 at 14:25