Serious and Urgent Issues With a Mimosa Pudica
Xavier_Bonet
February 17, 2013
Yesterday I bought a mimosa pudica. I chose at the nursery the lushest and greenest and that which, overall, looked in better shape. The plant was repot right there in the nursery into a pot of somewhat larger size. I brought the mimosa home and placed it in indirect sunlight and watered it so as to moisten the soil. This was around 3 in the afternoon. It's summer over here. The plant spent the day well, seemed not to have been affected by the transplant. The leaves closed at night, as expected.
One thing that I noticed yesterday was this: obviously, in the repotting process the plant was handled all over and it all closed up; now, for the rest of the afternoon, and once the leaves had already been reopened, I noticed that the plant was not as sensitive to touch. Even when stroking them, I noticed that the leaves did not close. I assumed it was because the plant had already spent a lot of energy when it was transplanted.
Then, today in the morning it woke up with some of its leaves yellowing. And thereafter, every five minutes, several of its leaves have become more and more yellow and are even drying up. It's amazing how fast they are drying up!
I searched the Internet, but the recommendations are all contradictory. On the one hand they say the mimosa needs a lot of direct sunlight and, on the other, they say you have to keep it out of direct sunlight. Some say it needs ample moisture and, others, that too much water can be the cause for yellowing leaves. So I do not know what to do.
Today the plant was in full, direct sunlight in the morning, so it could be that. However, I took it away from direct sunlight and it has continued to yellow. Could it be that I watered it too much yesterday? Although what I did was wet the soil, as I saw on the Internet, moistening it without letting it soak or make puddles. One one site it said that leaves may yellow when moisture is low, so I put a little more water. But, though perhaps it's my imagination, the plant seemed to get even yellower with this. So I took it off its plate and left it where it can drain quickly and in the shadow, but the yellow progress was ongoing.
It's now afternoon and the temperature has lowered a little and the wind has picked up and the yellowing progress SEEMS to be slowing down or even stopped. Every now and again a big gust picks up and shakes the plant and it closes all up but then reopens a minute later. Don't know if all this has anything to do, but they are the facts and all I can tell is happening.
(There seems to be no bugs anywhere.)
Thanks for your support!
P.D. I'm uploading a photo so you can see what kind of yellowing is going on.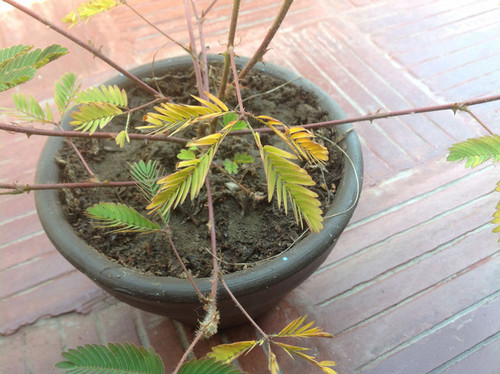 This post was edited by Xavier_Bonet on Sun, Feb 17, 13 at 16:03