Sick, yellow skimmia
flash_garden
July 19, 2014
Need some help. Planted these skimmia a year ago. North facing, as you can see against a brick porch. Decent soil, but also plenty of clay that is common in the Portland area. Planted them in the fall. Not long after they started turning yellow from the leaf edges in, and then they started dropping.
They made it thru this spring, but only one showed any reasonable growth. Lost one of the four. Have a replacement, but don't want to put it in the ground yet until I can figure out -- and hopefully resolve -- the problem. I have looked at it and don't see any bugs on it.
Any ideas of what is causing the yellowing and how to get these things growing and vibrant? I have a mix of male and female.
Thanks for your help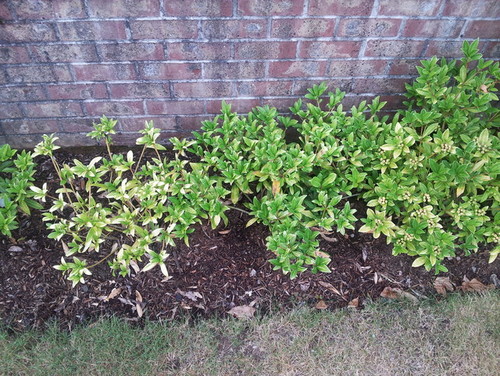 This post was edited by flash_garden on Sat, Jul 19, 14 at 0:49