Pruning and die back questions
Hi everyone,
Some back ground:
We moved into our home last fall. Two of the foundation planting shrubs were mostly dead. One was about 95% and one was about 75% dead. We only have the foundation plantings. My DH loves it that way, me not so much. I gave the plants some time to recover if it was going to at which point I removed it. I think they might have had black root rot(?). The rootball was very small, mushy with black streaks. They have good drainage and lots of sun. They seem to have two speeds, thriving or dead as doornails. Some of the remaining plants have the same dieback as the first ones I removed.
The ones that are thriving are going nuts. I have never really pruned a shrub. The ones at the corners are eating the sidewalk. I have been reading up in pruning and I am not sure which method will be best. Any before and after pictures so I know what to expect would be awesome if you have any.
TIA
Picture of monster shrub below. We have to dodge it to get into the house.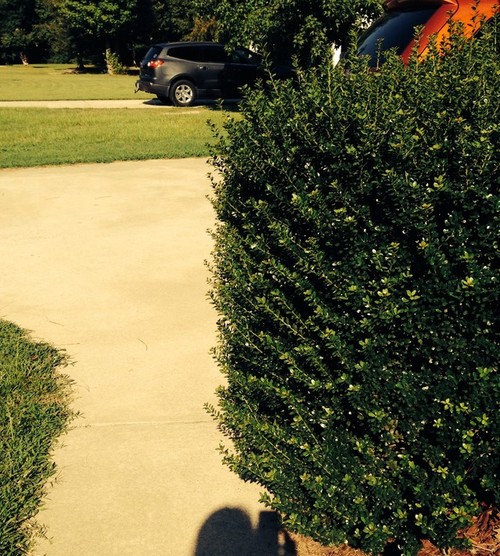 This post was edited by NVL4 on Fri, Jul 18, 14 at 9:49