Replacing my Silver King Euonymous'
I really, really like my Silver King Euonymous. I have 4 of them across my front bed, they provide the perfect contrast to the rest of my plantings and they show off Christmas lighting like no other. However, scale is killing them and it's killing me.
I can't keep up with the amount of scale infesting the plants now. I've been diligent with 'organic' mixtures found here to combat the scale (vegetable oil, baby shampoo, baking powder, etc) but it seems to have little, if any effect. This year has been the worst. I've sprayed, scrubbed leaves, scrubbed branches, etc... but I simply cannot keep up with the spread.
As much as I hate to replace them, I need something with a similar look to the variegated, medium size leaves, but it has to be something much less susceptible to scale.
I prefer some sort of evergreen with medium leaves. Something lighter green but it does not have to be variegated. These sit behind some smaller, sculpted english boxwoods so I am looking for a bit of difference. The Silver Kings are perfect would it not be for the scale.
I am in NJ, zone 7a as I understand it and these shrubs get full sun from about noon until 6 pm or so.
Any recommendations on something similar that is a little less maintenance intensive?
Thank you!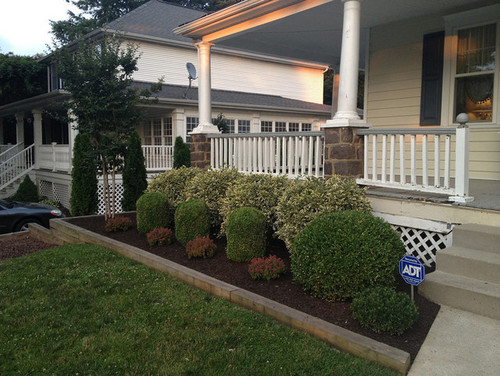 Here is a link that might be useful:
This post was edited by doylecjd on Mon, Jul 1, 13 at 10:20