Let the season begin!
seil zone 6b MI
March 18, 2012
Well, the deed is done. Come hell or freezing rain or temperatures, the pots are out. They sit on top of the raspberry and strawberry beds, which are starting to grow, and Al wanted the pots off. He offered to help and that was a deal too good to pass up so I grabbed it. Those pots are HEAVY and I'll take all the help I can get, lol.
I had taken the top layer of leaves off last Tuesday because it was getting so hot in there and everything was growing like mad already.
But with Al's help they all came out the rest of the way today! NOT what I had planned on doing today. I was planning on spending a well deserved day off my feet relaxing and reading the papers after the conference this weekend. But you have to strike while the iron's hot. He doesn't offer too often, lol.
They'll need to be cleaned up and pruned yet but they're all leafing out. Not one loss that I can see!
No losses in the seedlings either!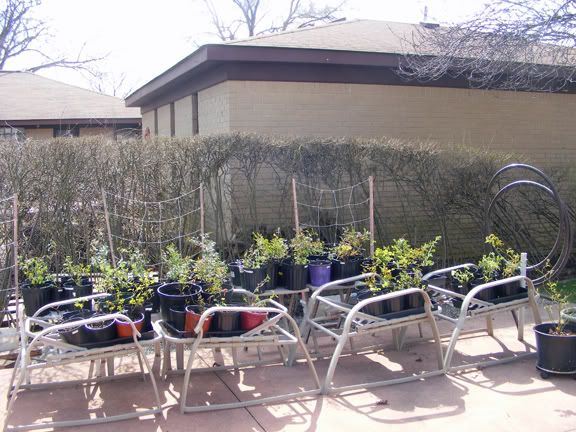 Now I just have to clean up the mess!
But I can't think about that today. I'll think about that tomorrow. After all, tomorrow is another day!