What is this drop dead gorgeous dark red rose?
tropical_philippines
March 2, 2009
Bud:
Fully open flower:
Flowers in vase: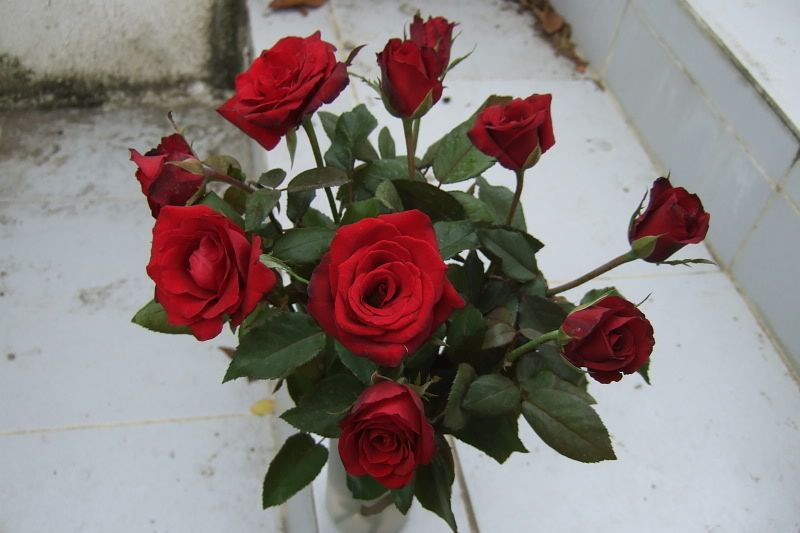 I have been wanting to I. D. this dark red rose but had no idea on its growth habit. Having successfully grown it from a cut flower seven months ago, I can say the following characteristics of this rose:
- Flowers are dark red or deep red but vivid in color (not dull), with thick petal substance; flowers take about 2 or more days to fully open from a mature bud (longer than many hybrid tea roses); flowers last about a week on the vase. Flowers have a slight sweet, tea like scent (most noticeable in a bouquet).
Color retention is very good (vivid, dark red color lasts for several days). Fully open flower form and bud form is as shown in the photos. Form retention is very good - it retains the fully open form shown in the photos above for several days. This rose holds on to its petals very well for several days; Petals don't easily drop even under daily rains in our climate. (Petal edges do sometimes turn almost black in our hot tropical climate.)
Strong flower stalk - does not bow down; remains firm and upright even with the daily monsoon rains in our climate.
Flower size - about 4" in my 7-month old 'cut flower' propagated plant (it could get bigger); Petal count about 30 in my young plant (it could have more when my plant is bigger).
Stems - very few thorns or none at all at the upper flower stalks/stems. Some small thorns (still few compared to most roses) near the base of the plant .
Flowers are borne on long stems (about 12" or longer for my 7-month old 'cutflower propagated' plant). Only single flowers per stem. The 'bush' seems to behave well - definitely not a rambler or climber type of rose.
Reasonably well behaved grower that remains upright with sturdy canes and strong flower stems that don't spread very wide. (This is as far as I can see from the 7-month old plant.)
Also, I'd like to add that the flower color may look different on your individual computer monitors as few of us ever calibrate our monitors. Anyway, it is not the usual, 'normal' or 'regular' red color. The rose is really 'dark red' under normal lighting conditions. It can get really very deep luscious red in dim indoor lighting conditions. Under bright noon sun, this rose will still look darker than most regular red roses (except the darkest red ones) and it stands out because of the vivid dark red coloration. (Many dark red roses look dull, maroonish/brownish red but this one under noon sun looks very luscious, vivid, saturated, true dark/deep red color [not dark maroon] without any hint of purplish or red-orange hues.
This rose also seems disease resistant. I haven't have blackspot, powdery mildew or rust on this rose though it could be my tropical climate. The rose is repeat blooming.
Any name suggestions will be appreciated.
It is such a frustration for me when all that rose cut flower sellers here could tell me is that it is a dark red 'American' Rose.
In this part of the world, roses have this simple naming system: Rose color + American Rose or Holland Rose or Mini Rose or Local Rose. American roses are the automatic name of hybrid teas with medium to large sized buds and flowers while 'Holland' rose is the automatic name of hybrid teas with large to very large sized buds and flowers. Local rose is the name of the rose when it is endemic to the country while mini rose is the name when the blooms are much smaller than 'American' Rose.
Thanks in advance for your help.
tropical