What are your experiences with hardy lycoris?
Ispahan Zone6a Chicago
March 28, 2013
One of the things I planted last spring were a few types of hardy lycoris. I have always loved these because 1) they bloom at a time when the garden is dry, dusty and tired, 2) even the supposedly common ones are hardly ever seen, and 3) although they are famously slow to establish, once they get going they will slowly multiply and live forever. In the right setting, they are true "legacy bulbs" that will persist with no care long after the gardener who planted them passes away. I wanted to share my experiences with these bulbs just in case any of you are interested in trying them.
I ordered Lycoris x squamigera, L. chinensis, L. x caldwellii to start with last year. The squamigera came potted from Plant Delights, the chinensis came potted from Fairweather Gardens, the caldwellii were sent as freshly dug bulbs from Telos Rare Bulbs, and I also ordered some additional squamigera bulbs from EdensBlooms. None of these bulbs were cheap. But it is interesting that I might view a $10-15 potted lycoris (a mere bulb) as expensive when I wouldn't bat an eye spending the same amount on a rose or peony, lol!
As expected, none of these really did much of anything last year. They can take anywhere from 1-3 years to start settling in, and it is said that bare root lycoris bulbs can sulk underground for up to two years before even sending up foliage. I was pleasantly surprised though that three clumps of L. chinensis sent up gorgeous bloom spikes in August. They each lasted for 2-3 weeks in spite of the dust bowl conditions they were blooming in.
I was a bit worried that I would lose these over the winter. Although temperatures in my area never dipped below 0 F, we seldom had any snow cover to speak of, and we had frequent, dramatic temperature shifts and countless freeze-thaw cycles all winter long.
Now that my garden is finally waking up, it appears that at least part of my worry was unfounded. About 100% of the potted Lycoris x squamigera and L. chinensis sailed through the winter beautifully and are up and growing vigorously. The L. chinensis clumps are already showing signs of multiplication, since many clumps have at least twice as many shoots as when they were first planted. A little less than half of the potted squamigera seem to have produced offsets, but the original bulbs are growing nicely and I am sure that over the next several years they will all turn into nice specimen clumps.
I do have concerns about the bulbs I received bare rooted, however. The L. x caldwellii were nice freshly dug bulbs but had most of the root systems trimmed off for delivery. So far, about 50% are showing signs of life. The L. x squamigera from EdensBlooms were firm and appeared healthy but were packaged like typical Dutch-grown daffodils and had no visible traces of roots. So far, less than 10% are showing signs of life. I am hopeful that more will appear as the soil warms up.
Granted, these bulbs have a reputation for sulking and pouting when transplanted but I can't help but wonder if buying container grown lycoris is the best way to go. I learned after the fact that lycoris are never really truly dormant and their root systems are always active. Trimming off any of their extensive, spongy root system puts them into a state of shock. And judging from the roots on the potted specimens I received last year, these bulbs have HUGE root systems, much larger than would be expected for a bulb of this size. Hopefully, most of these originally bare rooted bulbs are just sulking underground regrowing roots and perhaps will appear next year. I remain optimistic.
This spring I am adding container grown Lycoris sprengeri and hybrid 'Sky Over Sky' from Fairweather Gardens. In addition, I ordered Lycoris longituba from Brent and Becky's. These are supposedly grown locally and shipped right after digging in early June. Based on my experiences above, I am a bit hesitant about these bulbs since I know they will probably have a substantial amount of roots removed. I am keeping my fingers crossed for easy reestablishment. But if they don't do well, then I will only stick with potted lycoris in the future.
The link below is for the Pacific Bulb Society's informational page on Lycoris. If you click on "Garden Lycoris and More" toward the top of the page, you will be taken to an article by James Waddick that is perhaps that best piece of writing I have found so far regarding different types of hardy lycoris.
Also, here is a poor quality photo taken from my phone last summer of one of my blooming Lycoris chinensis scapes.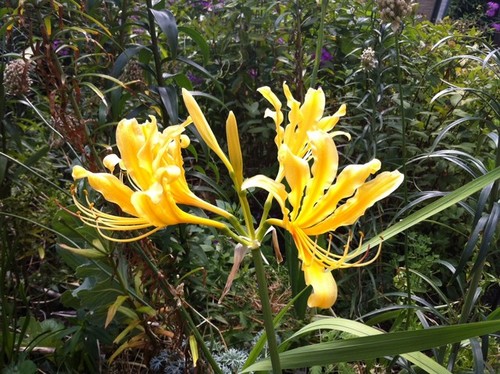 Here is a link that might be useful: Pacific Bulb Society-Lycoris
This post was edited by ispahan on Thu, Mar 28, 13 at 19:31