which bark is best?
robinlmorris
March 26, 2014
Hi,
I need some help figuring out which bark would be best for my plants. I am planning on using the bark in some gritty mix, 5-1-1, and as a soil amendment in some large fabric raised beds.
My choices are the 1/4 minus fir bark pictured on the left or the fine redwood amendment pictured on the right. I didn't have a coin handy, but both seemed uniform and most pieces 1/4 inch and under). I am mainly concerned about the amount of sapwood in the bark. I know that fir bark is highly recommended over redwood on the gardenweb forums, but does this fir bark in the picture have too much sapwood? Would I be better off using the redwood?
Also the description of the redwood fines is interesting:
"Ground up redwood, which is a byproduct of the lumber mills, has been stabilized with nitrogen instead of composted."
Is this nitrogen stabilization a good thing or is it something to steer clear of?
Which bark will make my plants healthier and happier?
Thanks for your help!
Robin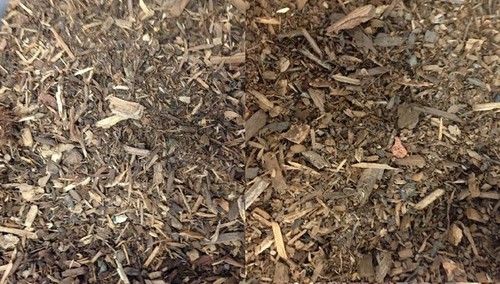 This post was edited by robinlmorris on Wed, Mar 26, 14 at 4:15