Another forsythia or is there something more interesting?
olreader
December 10, 2013
I would like to put in another bush on the left in front of the downspout. And maybe replace the existing bushes eventually.
There are two big bushes in this photo and they look the same most of the year. The one on the right is a Ribes alpinum according to a tag I found, but I have never seen any blossoms or berries. The one on the right is forsythia.
I don't have any complaints except that these two are a little boring, especially the Ribes. What I like about them:
grow tall and upright (not floppy)
dense foliage, woody stems and substantial
This is Colorado near Denver and the photo is looking north, so there is lots of sun. I don't think too much water coming down the spout will be a problem.
I read that maybe currants need several plants to fertilize the flowers etc? But I haven't even seen flowers, maybe they are small. Maybe i will ask in fruit forum if other kinds of currants (that are probably tastier) would get big enough and be hardy enough. But do any of you shrub people have ideas for other plants?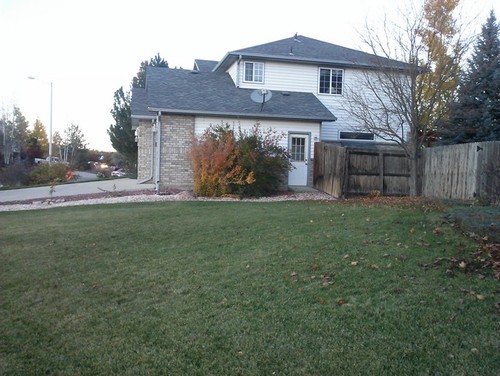 Here is a link that might be useful: Here is something I found on Colorado shrubs
This post was edited by olreader on Tue, Dec 10, 13 at 23:40