Seafoam ...WOW
I thought I would post a picture of my lawn tractors piston after my seafoam treatment.
I changed the head gasket on this mower, a B&S 16.5Hp 31C707 lawn tractor, last week. This mower also has a small leak on the carbs inlet needle which I have band aid fixed with a manual fuel shut off valve. The week before I changed the gasket I thought I would give this mower a good dose of seafoam in hopes of dislodging any gunk that might be in my carb.
I first put in about 500mL of gas (about a pint) and ran the mower for about 5 minutes to warm it up. I then added 60mL of seafoam to the gas. I ran it this way for about 10 minutes and then shut it down for about an hour. I then ran it for another 5 to 10 minutes and shut it down for another hour. I then ran it for 5 minutes and then added about 1 gallon of gas to dilute the seafoam. I then road it around my lot for about another 5 minutes or so and that was it.
I was completely amazed at how clean that piston was. This is after 10 years of an hours mowing every week all summer.
Anyway, maybe they all look like that but I thought it would be a lot more carboned up. That is exactly what it looked like once I removed the cylinder head. At around 2:30 o'clock you can see where the breach in my gasket was.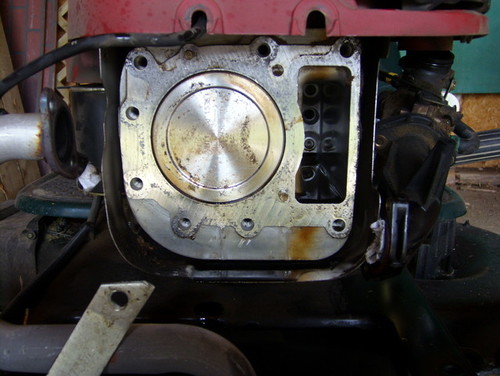 This post was edited by optsyeagle on Wed, Apr 30, 14 at 16:23