Air compressor: Which to choose Oil filled or oil free design
I am considering purchasing an air compressor for light home use. It will only be used occasionally, and I wanted to get opinions as to which type unit to buy. I am not necessarily limited to the two models in this post, but these are the types of compressor I am considering.
I have liked this Husky model from Home Depot for several years. It has a 26 gallon tank, with a single stage oil-filled cast iron compressor.
http://www.homedepot.com/webapp/wcs/stores/servlet/ProductDisplay?storeId=10051&langId=-1&catalogId=10053&productId=100063473
The other style that seems more popular is the oil free pump, similar to this unit from sears. It also is a 26 gallon tank.
http://www.sears.com/shc/s/p_10153_12605_00916760000P
I have attached pictures of the two units that are mentioned here. Cost isn't that big of a driver. I want something that will last well with limited use, and operate in an effective and satisfying manner. My assumptions going into this are that the oil filled pump would be considerably quieter, and that the oil-filled would last much longer.
It seems however that there are many more oil-free units of this type being produced, so I wanted to get some opinions from users of either or both type. Maybe my assumptions aren't valid. I have seen oil-free designs that are portable with ~25 gallon tanks from DeWalt, Kobalt, Campbell-Hausfeld, etc. The oil free designs also seem to typically have a higher Max PSI rating. Thanks...
Example pictures of a couple of the compressors...
Oil free design...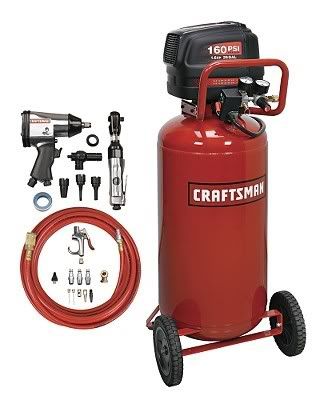 Husky cast iron oil filled compressor...