soil bacteria Rhodococcus fascians
jeaninmt
(3a)
April 7, 2014
Hi, Over the past few years we have seen an increasing incidence of strange plant growth. It affects the Broccoli and Cauliflower, as well as lettuce, onion and Calendula flowers. What happens in the broccoli is that it gets a very big plant, and just when I start looking for the head to form, branches grow from down at the soil. Please don't be confused, its not the normal side branches developing. These bottom branches grow like another plant, forming a main head and then side shoots. The original head eventually forms as usual. The yield is amazing, but it takes 90+ days to harvest. These are normally 70 day varieties.
In the Cauliflower, it starts the same, then just as the main head is starting, new bunches of leaves come out at the base. Sometimes the main head completes forming, as well as a freaked out looking side head or two. Sometimes its all just green growth.
The flowers I mentioned freak out just as seed production should begin. The center of the flower shoots out about 2 inches. No seed forms.
The state horticulturist saw pictures and said it was from a soil bacteria called Rhodococcus fascians.
I would sure like to find out how to balance things out so this stopped happening. Our garden is built on compost and barn cleanings. I am thinking that the diversity in bacteria needs to be built up, maybe?
Any other ideas?
Thanks so much!!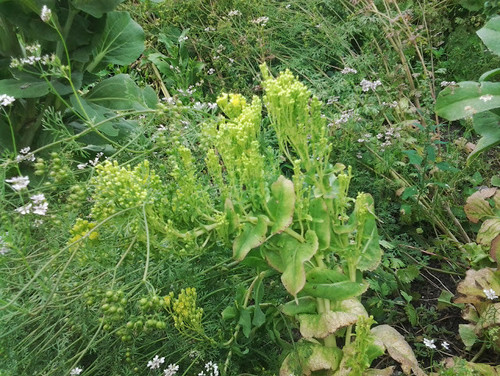 This post was edited by jeaninmt on Tue, Apr 8, 14 at 11:21