I should have listened....
elisabeth_rose
May 28, 2009
4 years ago I bought 7 tiny New Dawn bands from Heritage. I planted two in an enclosed court yard and 5 in my front yard, against the fence you can see in these pix. I nursed and babied and fretted over these things, and anxiously waited for them to bloom. They grew big and strong, but no flowers until last year. As you can see, it was very nice, but it did not repeat. Very disappointing!
Anyway, this was a very tough winter in this area and they lost a lot of cane. Untangling and trimming the dead stuff was a horrendous job. Those thorns are lethal weapons! Even though all the roses survived, they now look scraggly and just messy, with few buds, and trunk like cains. I wish I had listened to more experienced rose people, who said this many New Dawns would be too hard to manage. I am thinking about shovel pruning them but I know blood will be shed (mine) :) I am also worried about wrecking other plantings I have in that area, trying to dig those roots out. Hindsight is always 20/20 isn't it.....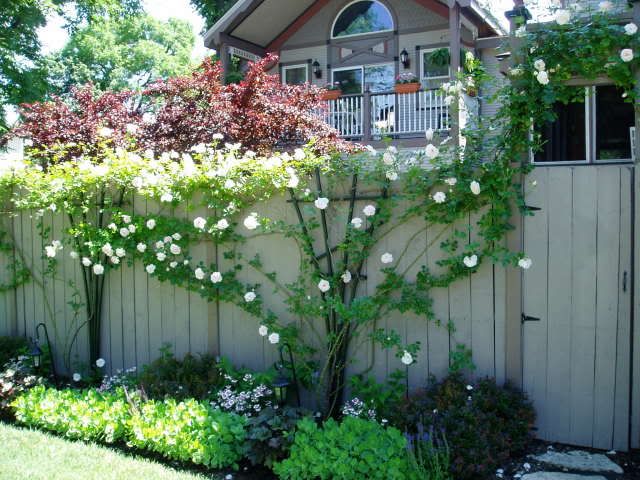 Elisabeth