Small trees to line driveway
I am looking for suggestions for trees to line a driveway.
We recently built a new home and are beginning to plan our landscaping. We have hired a local landscape architect for the beds and landscaping around the house. However, we are interested in planting trees along our driveway. The home is on about 1 1/2 acres of open lot that will be grass, and the lot is carved out of the woods. I am attaching a photo that shows the home, the driveway, and our general idea of what we would like to do. The driveway is about 200' long in the area where the trees will be planted. Our architect has suggested 6 or 7 trees on each side, spaced 20' on center. We are meeting with her next week for suggestions, but I was hoping I could get some additional opinions from this forum.
I will say that my husband likes the idea of flowering trees. I like the look of a cherry or the Pears, such as a Cleveland. I know the Cleveland Pears are very popular, but break easily and are not suggested for long-term or lining driveways (even though you see it often). I am saying all of this just so you get a general idea of the look we like, but suggestions of anything different are very much welcome! Thanks in advance for your help!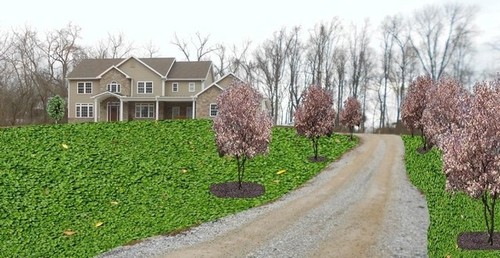 This post was edited by bazdar on Fri, Mar 29, 13 at 9:21