Help please - ignorant to roses!
Hello all - new here. I just wondered if any one would be so kind as to enlighten me with this -
My neighbours recently moved out and left behind a poor abandoned rose. I spotted it whilst attending to my other potted plants on my patio and kindly asked the builders (once I contacted the former home-owners) if I could pop in and remove it. I now have the rose :) When I first brought it in, it was covered in black-spot. It was obviously not looked after by the former residents - before them an elderly lady lived there for 30+ years and she was a serious gardener and would have been heartbroken at the state of this poor rose. I pruned it - even though it is not really the right season, but thought I had nothing to lose - which obviously got rid of the black-spot. I also treated it with the 'Bayers' fungus killer/control. Now I say pruned, I guess what I mean is cut off the leaves that were affected.
I potted it (as I have no garden - only a patio) in a 40 litre pot. It has formally spent all it's life in the ground. I will re-pot in in a larger pot if need be. I used an an all-purpose compost, some ground coffee (which was advised to me at a garden centre) and some good fertiliser. It seems to be doing okay and is in bud, with two blooms. What I want to know is - is there anything else I need to do, or do I just wait and see how it does? Also, I have no idea what variety of rose this is...is it a climber?
Many, many thanks for any help :)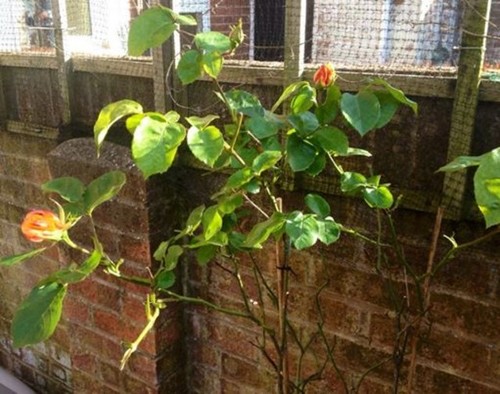 This post was edited by Emmie73 on Sun, May 11, 14 at 14:50