air in pipes after lawn sprinkler runs
halogengirlie
June 14, 2013
Our house was built in 1994. We recently had a plumber replace a first floor kitchen faucet and second floor bathroom faucets & their associated valves. He shut the master valve to the house and drained the water from the lines to perform this work.
We expected the usual air in the lines for the first week. However, the second floor bathroom faucet has developed a new problem. Whenever the sprinkler system runs we get air in the lines at that new faucet, ONLY at that new faucet.
The faucet I selected for that room... is one of those modern open top waterfall style faucet. So the air shoots the water across the room. Once the air escapes the line, the faucet behaves perfectly until the next time our sprinkler system runs. It only seems to occur the morning after the sprinkler system runs. We did not have this problem before the water was shut off to install the new faucets.
We asked the plumber on the phone and he thought it may be that our existing water pressure is too high. So I bought a water pressure tester. The water pressure holds between 80 - 85 psi... but did spike up to 135 during the day sometime. He recommended adding a pressure reducing valve.
We did not have this problem before our recent work... so I don't want to install this valve if it does not remedy the situation.... Does anyone here know what could cause this... or anything we should test prior to committing to this course of action?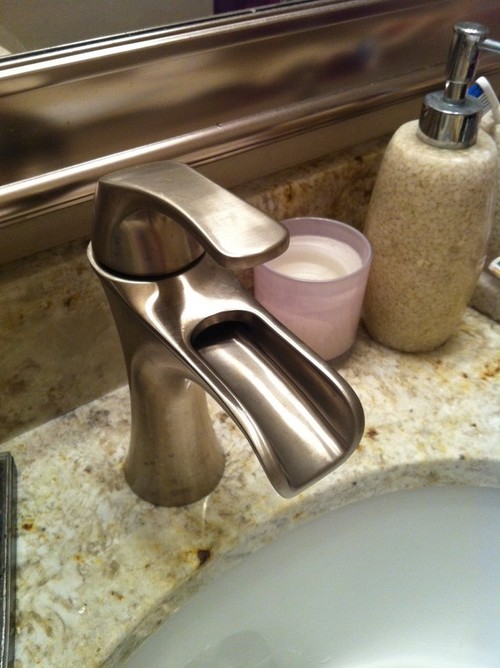 This post was edited by halogengirlie on Sat, Jun 15, 13 at 11:44