Post PHOTOS of your compost pile!
arwmommy
(9b So. Calif.)
May 20, 2008
OK, if I email a photo of my compost pile to my friends and family, they will truly think I have lost my mind.... but I think it would be great to see how everyone does it. I am sure that we will see that there are a zillion different ways to compost successfully-- large or small piles, urban or on major acreage, premade or homeade etc....
Here is my pile. It is in the back of the small garden (we are on 1/6 of an acre in a subdivision!). It is approx 4' deep by 3' high by 2.5' wide. Right now it is covered in rose petals falling from the bush above, which just makes it look more beautiful to me! (Compost Dork Alert!) It is composed of mostly straw/chicken poop, pine shavings/chicken poop, oak and alder leaves, grass clippings, kitchen waste. It is loaded with worms and roly pollies!
Can't wait to see everyone else's compost. If nothing else, it should inspire newbies that there is no "perfect" way to compost, and to get them excited!
Whole garden photo: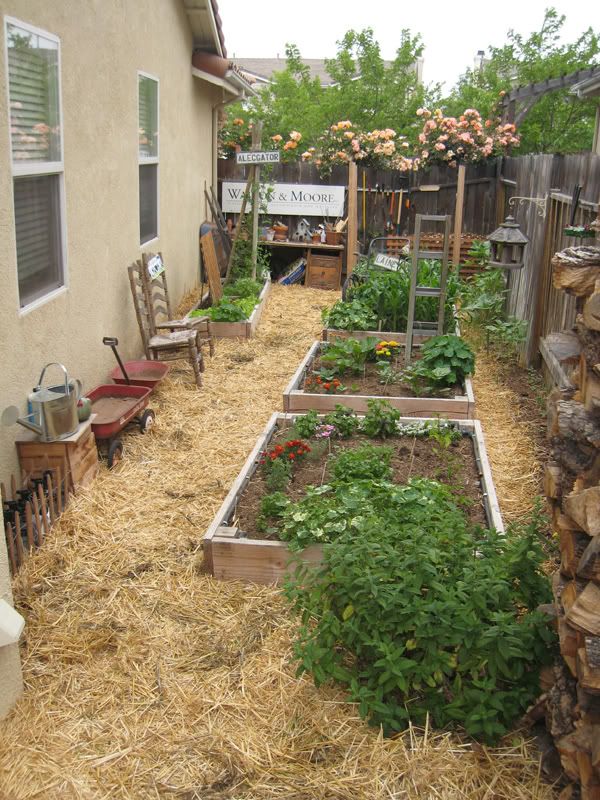 Back of garden with compost behind lattice:
The beautiful compost pile ;)