Will Beetles/Boers/Etc Attack fresh cut Pecan wood
loger_gw
December 24, 2013
Will Beetles/Borers/Etc Attack fresh cut Pecan wood as I know they will Mesquite wood? In the past I have noticed fresh cut Mesquite would end up with Grub Looking Borers after it is cut (vs before and leaving mounds of dust). My past Pecan held 2-3 seasons with good weight and no sign of borers.
As IâÂÂm rotating to older wood to burn and noticing same Pecan is being attacked and seasoning/aging faster. It appears as all round wood vs split blocks. Could breathing from stacking too tight contribute due to the moisture/mildew appearance (plus bore appearances in attachments)?
I am on my predicted two cords pace or over due to burning older than seasoned wood. Loosing more value in the two cords I planed to save will cause this to continue. My body is not too happy with this loss. A new goal will be to split all wood smaller. Such as: quarter 12â dia wood and no round wood over approx 6â in dia. My Body Is Talking/Rehabbing from too much overhead lifting of wood too large. Pics at the links below if they do not open but IâÂÂll attach one as a summary.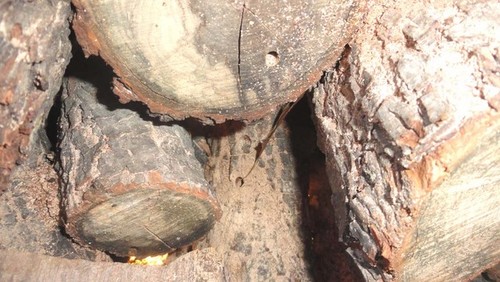 This post was edited by loger on Wed, Dec 25, 13 at 11:26