Storm Pictures
lblack61
(z5 NY)
February 10, 2007
The Porch: Some wintersowing leftovers/carry-overs from last year are under there
The Porch...after I dug a path to the driveway (and my garden buddy Nikki)
The BackDoor (there's stairs that lead up to it. Now, just jump in the snow to exit, pray you don't hit anything) There's five bags of 5-7 milk jugs each of WSing under there somewhere.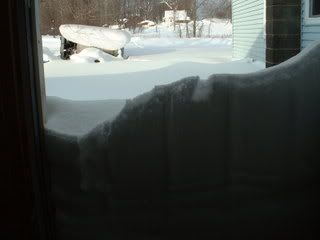 Another view from the backdoor. That's an old maple tree and an old shed (that we still use) The riding lawn mower is there somewhere, covered in tarp...(we need a garage):
The Lilac Bushes have no legs...almost no neck either!
Our pine tree...with a trench dugout to the bird feeders (which have been VERY busy this week)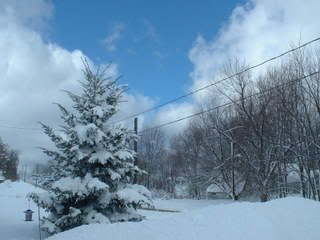 It's been calm and sunny today so far. Two days in a row. Much appreciated!