Identify this for me please
jfchui
(NSW Aust)
April 27, 2014
In a ground floor unit two trees were seen growing (by previous owner) taller and taller in the garden and we decided to remove it last year. The appointed tree man said they were strub and can simply be removed and he did. However, he refused to grind the stumb for us. Instead he left toxic stuff on the trunk surface after it was cut. That's wasn't good but it is now too late.
After a year we found the tree had tried to grow sideway. We don't live there but we believe new borns had growth to over 4 meters till we were told the problem. See picture. The tenant chopped it down and yesterday we removed it. At the same time we removed the top soil and as seen from the picture its roots grows sideway and it was very thick (the root was nearly 13cm, it took only abt one year to reach that size!.)
This is alarming as the roots move towards our piping for drinking water and sewage pipes as well. All I had done yesterday was to cut what we saw.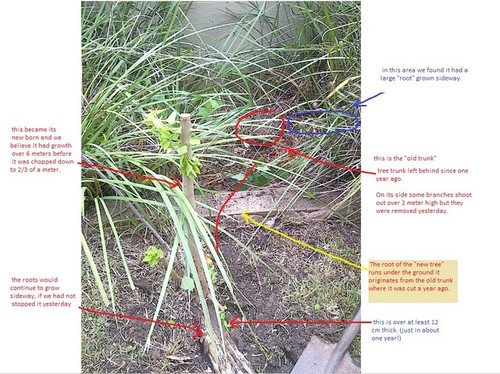 Here is a link that might be useful: not required