PTO voltage question....
I'll try to ramble as little as possible. I have a Sears DYT 4000 (917.273640) with the Intek 18.5hp motor. While cutting the grass last week, saw some smoke come out from under the engine, then everything just shut off. Long story short, PTO clutch fried. Got a replacement clutch from "eXtreme mower clutches", and the well written instruction sheet says the voltage to the PTO clutch with engine running and PTO switch off should be 0.00 volts. This prompted me to do electrical testing, and discovered the PTO switch was shot. Replacement on order...
So continuing testing, I have 14+ VDC at the PTO clutch electrical connector when using jumpers and emulating the switch ON. BUT, using jumpers to emulate the PTO switch off I have .57 to .6 volts at the connector (clutch is not installed yet), not 0.00. I called the clutch company, and the tech support guy said it should be 0.00. I can't find anywhere where the wires are frayed/melted. I did find the diode at the clutch connector (don't see it in the schematic below). It looks fine and it tests good per my meter diode check function (.5 volts one direction, nothing the other direction).
Bottom line, my question is: on this or similar models, is the voltage supposed to be ZERO when the PTO is not engaged, or is that residual voltage okay? I don't want to burn the new clutch up...
Thanks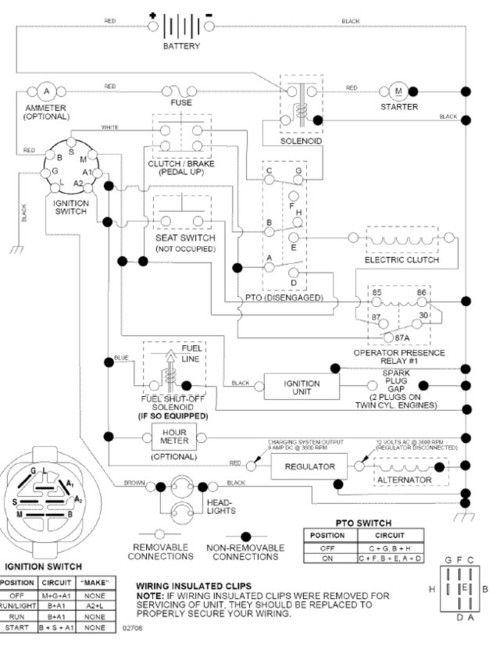 This post was edited by bwillet on Thu, Jul 31, 14 at 15:40