My mother's memorial garden, very heavy on pics
littleonefb
(zone 5, MA)
July 10, 2007
I just love the thoughtfullness of teenagers and what they can come up with to do when their close friend and her family are dealing with the death of a loved one.
When my mother passed away in late Oct. 2001, my daughter's friends new that we would dig out "all" of my mother's plants from her apartment garden and bring them home to my gardens. I was worried about digging them out as the day of her funeral it was freezing cold, but new I had to do something or we'd lose them all and didn't want that to happen.
These kids, teenagers I call them, but all had just started their first year in college, new I really had no beds to put all of them in and they wanted to do something for me, since they had all grown up in and out of my house. Some of them I had known since my daughter was born.
So while we where at the funeral and cemetary, 5 girls and 5 boys, came over to my house and slaved for 5 hours. When they where done, they had dug out a new flower bed the entire length of one side of the front of the house right at the foundation. They dug it 12 inches deep, then filled it level with miracle grow garden soil, covered it with 4 inches of bark mulch and edged it with rocks they found in the woods. Then they put a huge bouquet of lavender artificial lilacs in the center of the bed, because they where one of my mother's favorite spring flowers.
Of course my camera wasn't working and I couldn't have taken a picture through the tears anyway.
The following weekend, they all met me at my mother's apt and helped dig out the plants, collect the seeds that I could still get from her annuals and helped me plant them all in the new "grandma's memorial garden".
My mother must have been watching out for her plants as by the weekend the temps had gone into the 60's and low 70's in Nov. and I was planting in a t-shirt and it stayed that way for almost 3 weeks. Long enough to let the perennials settle in to their new homes.
The flower bed has grown and changed over the last several years. It's full of my mother's perennials, annuals the seeds that we collected, her lawn decorations and new perennial and annuals that we add every year from a list she kept that she always wanted to add to her gardens.
Also in the garden are the 2 lawn ornaments that my daughter had bought her for mother's day and she never got to use and her wind chimes as well. I've kept the garden bed in the colors that she always had, pinks, lavenders, purples, blues and whites.
So here are pics, lots of them as the bed develops for this year. My labor of love for my mother, thanks to the best friends anyone could have, my daughter's friends who dug the bed and helped plant the perennials and all my trading friends on GW that have traded with me for seeds for that flower bed.
Still getting used to a digital camera so some pics aren't the best.
Distant overview of the size of the garden bed
left corner and part of the center before this year's annual planting. You can see my mother's daylily catherine woodbury in the center with both of the decorations my daughter got her, on the left is her dwarf balloon plant, last years WS foxglove that she always wanted to have, gone by is her columbine songbird robin, a pot of 4 o'clocks from her seeds and of course her mother duck and 3 ducklings for her 3 children and 6 more ducklings for her 6 grandchildren. When she decided she needed more ducklings for her son-in-law and daughter-in-law she couldn't get any more. There's also a malve mauritana in the corner, on the left is also a double dandy sunflower. also a pot of toadflax from her seeds, livinston daisy infront of the ducklings. To the right of the malva is a nautica, and to the left in the back is a new england aster.
another pic of that corner and you can see the chinese forget me nots that are from my mother's original plant as well.
Center and right corner of the garden before this years plants where added. You can see the daylily, a reseed chinese forget me not, the decorations from my daughter, last years WS lupins, some covent garden, my mothers 2 bunnies, a pot of toadflax flamenco, and 2 stems of her hardy pink hibuscus coming up.
After adding more seedlings. you can see more chinese forget me nots, several zinnias and dahlias, a balsam impatiens in the back, and cleome seedlings way in the back.
Livingston daisy in the front and on a low pole one of my mother's lavender wind chimes. it's low to the ground as the movement helps to keep the chipmunks away.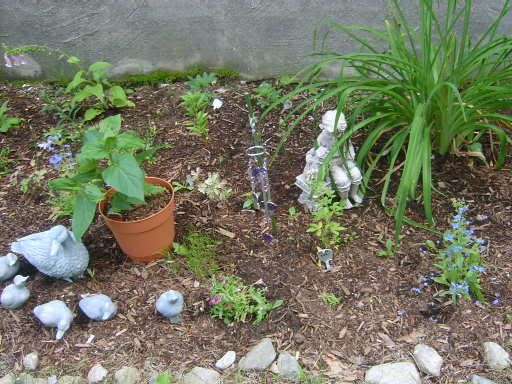 The other side of the daylily with the decoration from my daughter. Behind her are cleome, more zinnias, dahlias, toadflax fairy wings, covent garden, a malva zebrina, and a pink windchime.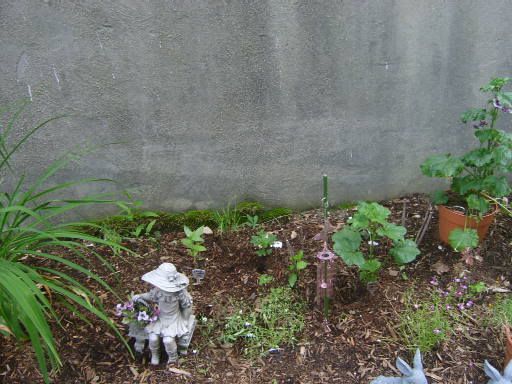 Another pic of the center of the planter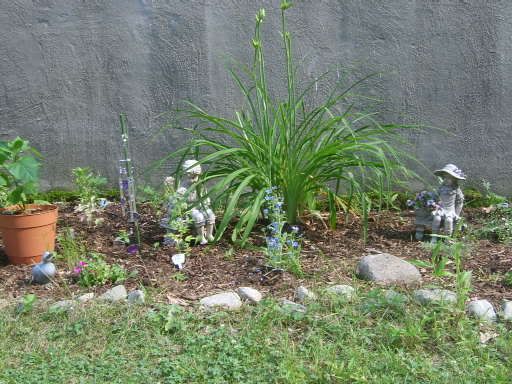 right corner before I planted everything. zinnais on the left, pink windchime, the hardy hibiscus in the back, another malva zebrina in a pot, more toadflax in front of the malva, and beside the toadflax is a perennial pink anemone that will bloom next year. Also the bunnies, livingston daisy infront of one of them, the foxglove going to seed on the right.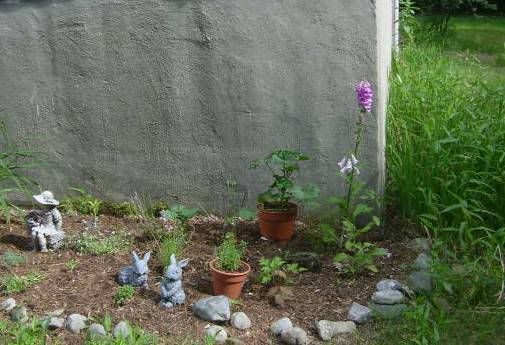 At the furthest point of the right corner is a sunflower strawberry blone. My mother always wanted to see a pinkish sunflower, so this year I WS some and put one there.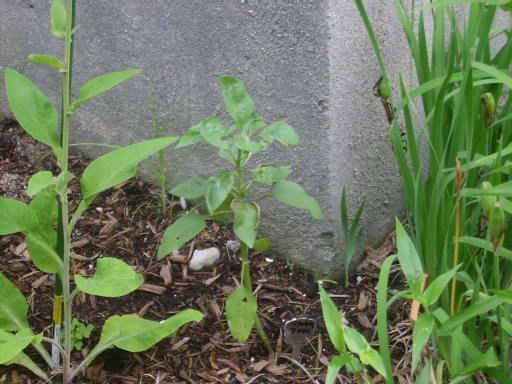 Close up of the victorian girl that my daughter gave my mother before she passed away. The flowers are artificial violas that my mother had and infront of her is my my mother's dianthis firewitch.
close up of the victorian boy and his dog that my daughter gave my mother before she passed away. You can see the seed pods of her columbine songbird robin, white cleome solos and her lavender windchime
my mother's songbird robin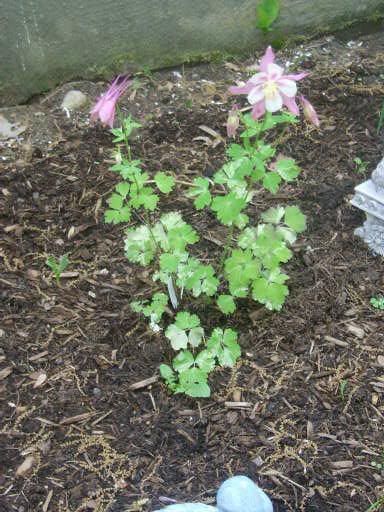 my mother's dianthis firewitch
Thanks for looking, and I'll post more pics of the garden when more flowers are blooming.
Fran