More WS blooms and They don call it 'MG potting mix' for nothing
littleonefb
(zone 5, MA)
July 9, 2007
I took these pics today.
They don't call it Miracle grow potting mix for nothing. This is supposed to me sunflower double dandy, 24 inches tall and "perfect for growing in a pot". Too bad they didn't say what size pot. Started in a 12 inch pot. Moved it ot a 17 inch pot that holds 1 1/4 cubic feet of soil.
It's now 3 feet 4 inches tall, but is branching and has several buds on it.
monkey flower burgundy and cream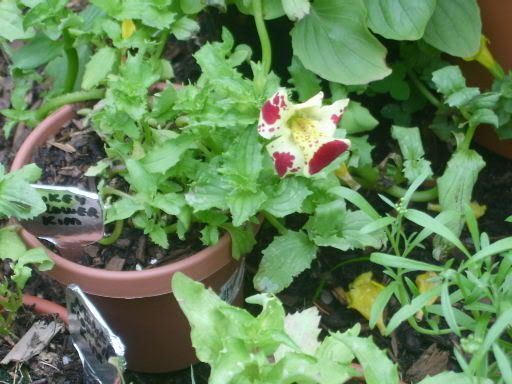 Monkey flower yellow and burgundy still in WS container
marigold disco flame, planted out all but these last 3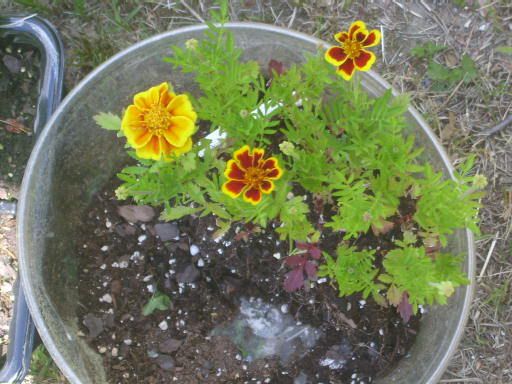 dwarf balloon plant, seeds from my mothers original plant.
zinnia pinwheel. only 2 1/2 inches tall and starting to bloom. What happened to 12 inches tall?
container of nasturtium peaches n cream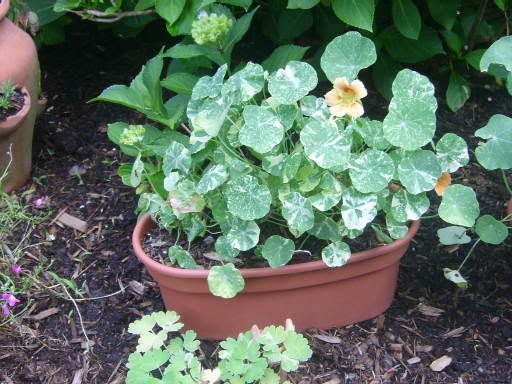 cosmos diablo.
daylilies in a plastic bag with no drainage hole in the bottom. Got these at the plant swap I had and haven't gotten them in the ground. There are 7 scapes on the fans now and full of buds. Part of me says leave them alone till fall, the other part says if the heat and humidity of New England summers really arrives, they will not survive in the bag. Gotta get them in the ground this weekend.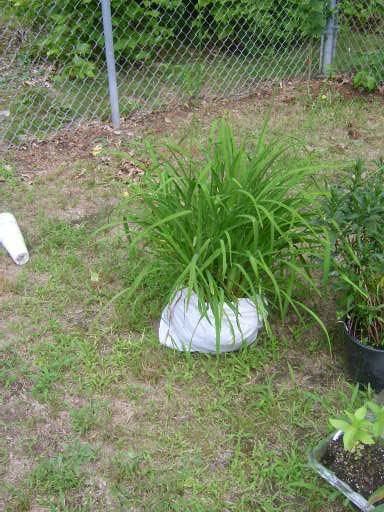 My old plastic birdbath. Won't hold water any more, but works perfectly as a planter. It's duck taped together in lots of places but still works.
In the front are livingston daisy and beside it and in the back are WS mixed petunias. They have grown really slowly this year, but since putting them in the birdbath, they are having a huge growth spurt.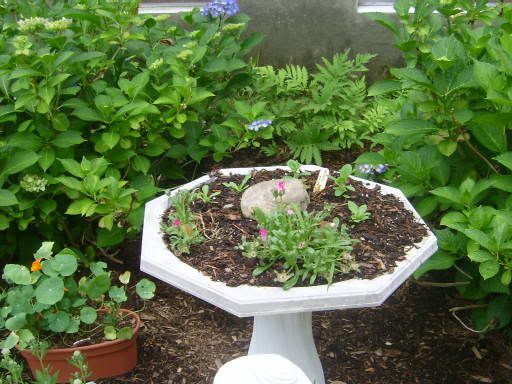 Victorian girl with gazing ball. I bought this for my mother for mother's day, but she never got to have it in her garden. She passed away a few months later, never returning home. I used to keep her in the birdbath but the birdbath isn't sturdy enough to hold her anymore. Came up with this idea to display her this year under the birdbath but really need to find a better way as she's hard to see still. The bottom 2 pots have alyssum carpet of snow in them and the top one has alyssum rosie o'day. On the right is a malva zebrina and on the left is a mexican heather.