How Much Front Wheel Endplay?
BriggsGalaxieman
August 17, 2011
I have a Craftsman GT5000. The front wheel and axle look like this: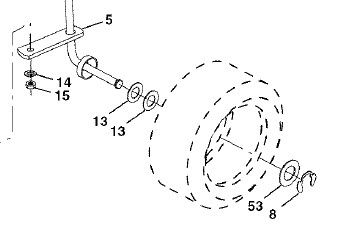 Most other tractors have a similar setup.
The âÂÂproblemâ with my tractor is that the wheels seem to have excessive âÂÂendplayâÂÂ. The wheels can move back and forth on the axles at least 1/4 inch. They are assembled properly with two thrust washers on the inside of the wheel and one on the outside. There is no wear on any of the components. This excessive âÂÂendplayâ naturally adds to a sloppy feeling in the steering.
My questions:
Is this much endplay normal and, if so, is there an engineering reason for so much endplay?
Does the endplay, possibly, make it easier for the axle grease to spread out between the axle and bearing?
Would it do any harm to add thrust washers sufficient to eliminate most of the endplay?