2007 Simplicity Broadmoor Review
lkbum_gw
September 20, 2007
I am nearing the end of my first season with my:
Simplicity Broadmoor 2044HP (20HP Briggs Vanguard, 44 in cut)
http://www.simplicitymfg.com/broadmoor.php#
My new Broadmoor
Although my use has been limited due to drought, I thought a review was in order for the readers of this forum looking for mower suggestions. These views are based on about 18 hours of use (like I said, we are in a drought). I cut about 1 and acres, donÂt break ground, nor push snow with the thing. My yard is reclaimed pasture, fairly bumpy with tall fescue.
What I cut - View From Cabin - NOTE Low Lake due to drought down 10 feet (still 12 feet off the end of the dock)
What I cut -View From Lake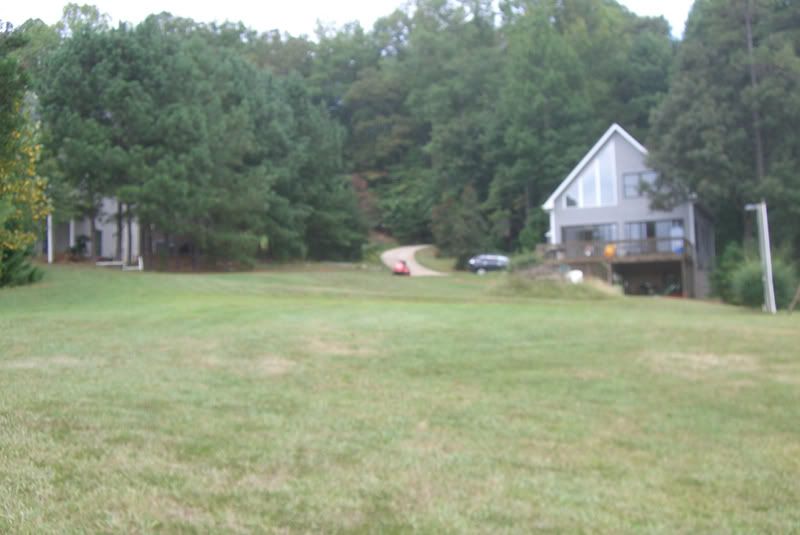 Mower Replaced  Murray Hydrostatic Drive  17 HP, 48 " Cut Purchased in 1999 for $1000 at Walmart  Probably best value I ever had in any piece of mechanized Equipment  Reason for replacement  Was Taking as long to keep running as I was cutting the grass, When Murray went out of business, Home Depot quit stocking parts, the transmission was getting weak and I didnÂt want to put any more money into the thing.
Old Murray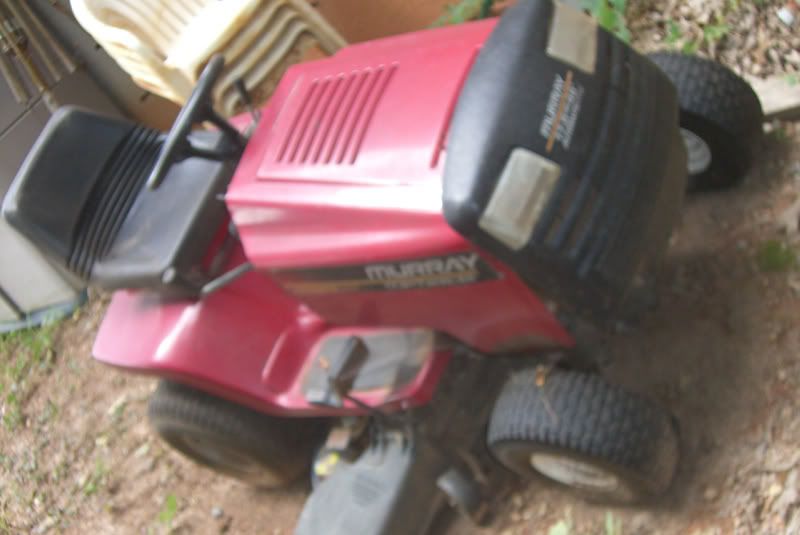 Other tractors considered- Deere X320, CUB 2544
Thing I Liked about the Deere  Kawaski Engine idled perfectly and was smooth as silk, great dealer, nice ride, felt solid.
Things I liked about the Cub  Shaft Drive, Serviceable transmission, Great Seat, good dealer
Thing I didnÂt like about the Deere  Price, Deck appeared a little flimsy
Thing I didnÂt like about the Cub  Some things on the machine just appeared to be Cheap, DidnÂt like the way the front cowl opened.
Other qualitative Observations:
Feel  Equal to Deere
Ride - Equal to Deere, Superior to Cub
Deck Removal  Appeared Easier than Deere or Cub (I did not try and remove the deck from either of these mowers)
Primary Reason for Selecting the Simplicity  Recommendations from other users and the "floating deck". Cost- about $3500 after taxes, including rebate.
Biggest Reason for almost not getting the Simplicty. There are virtually NO dealers in my area. The Simplicity Web site list dealers in my area that have not sold or serviced the machines for several years. Request to Simplicity for help in locating a dealer was worthless. I was told by one of the "ex" dealers that Snappers were the same as the Simplicity. They are not, they have a different deck.
Dislikes -
1) The deck adjustment mechanism is easy to trip on if exiting the mower to the right hand side. Really a poor design. As a matter of fact, virtually every thing to adjust or move is on the right hand side. Better hope you never need to bail off of this machine to the right, you will get caught by one of these levers. I had to bail off my old Murray once (it freewheeled on an incline), I donÂt recall if I jumped right or left. Note the Brake is on the same side as the hydro pedals (making nursing onto something like ramps, virtually impossible (this is my biggest complaint about the mower).
Look at the clutter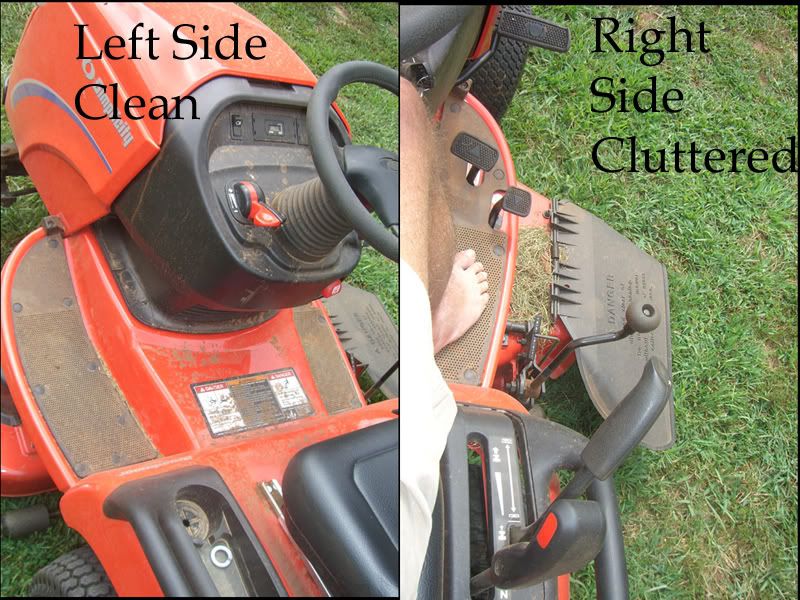 Dislikes Continued
2) Grease zerks for the mower spindles are under the deck, this seems like a bad place, do other mowers have them located here? (my old murrays were above the deck, stayed clean and were easy to reach). I guess this negates the requirement to remove the belt gaurds to access an above deck zerk.
3) Has too many penetrating screws from the covers on top of the deck into the deck giving a pretty good place for grass to accumulate.
4) Briggs Engine does not idle very smoothly, especially comapred to the Kaw on the Deere
5) The "Automatic Controlled TractionÂ" feature does not really appear to give much of an advantage compared to my Murray
Likes -
Cut quality  Truly unsurpassed, no scalp marks even if you hit a pot hole with one of your tires while mowing, even my neighbors have noticed.
This section of yard was cut going against the incline (would have been chewed with scalp marks by my old murray - Note smooth as carpet)
Likes Continued
Feel, Comfort Level
Gas Refill placement
Ease of Deck Removal
Appears to be very high quality
Comes with oil change extension.
Turn Radius.
Appears to be a very heavy duty deck.
The spindles on the deck are designed so that vines (such as Kudzu) or errant strings (bailing twine) will not wrap around the spindle and hurt the bearing seal.
Stripping - However, while this is fun, it takes a lot more time, requires very healthy grass (we are in a drought at the moment) and would be best with a bagger (just my opinion).
Problems to date:
Front mower attachment loosened at the front axle (appeared to have not been tightened at the factory)
RIO- Switch under the tractor became jammed (Appeared to be improperly set at the factory)
Would I recommend this mower  Absolutely
Would I have recommended my Old Murray  Yes, if you like tinkering around a little to keep it running, it was really a good machine.