Finally introducing myself! (a little lengthy)
Dinglehopp3r z7A. EastTN
June 12, 2014
Hello Everyone!
I have posted on this forum a only few times so far, but mostly I have been a quiet lurker, admiring all your rose gardens, and most of all admiring your rose knowledge.
My name is Jessica, I am 27, from East Tennessee and very new at caring for roses. I have always loved gardening, but overall have not had much luck, mostly due to the lack of knowledge of plant needs and requirements. For the past couple years I have experimented with random perennials, including hydrangeas, hostas, a knockout here and there, and various bulbs, etc.. but this spring, I was bitten hard by the rose bug, and now I just can't get enough! I think about roses all day every day, it has become an addiction.
Emotional side note: I lost my mother in 2010, and one of the many things I will never forget about her was how much she adored the color yellow, she always said it was the happiest color. Seeing my garden as an opportunity to memorialize her, I have begun to seek out the most beautiful yellows I can find (as opposed to the more popular soft pinks).
Since I am also a lover of vibrancy and contrast, I have added touches of orange, rich reds, purple, magenta, and peach, and also lots of blue from my companion plants. I know many of you prefer very soft color palettes, featuring mostly soft pinks, whites, or reds, with only small amounts of contrast (and believe me I love looking at photos of your gardens- they are lovely) My ensemble of plants may be considered tacky by some, but I love the somewhat chaotic mix of bright colors, casually placed here and there. My whole garden is only one season old (except the hydrangeas, they are over a year old, but they were moved from their original location) It has only been in the last few months that I have installed these boarder gardens along the front and side of my house, and have acquired around 15 rose bushes (both bare root and container) and loads of companion plants since then.
I live very close to a large university, my little craftsman house is tucked in amongst rental properties, frat houses, and apartment complexes in a semi urban area, so space is not something I have a ton of. Even so, I am constantly trying to tuck new plants into any open nooks I can find- its been a learning process to find what works
One last aside:
Before I started growing roses I never enjoyed spending time outside my own house, my yard is fairly small and provided zero color, privacy, or interest before last year and in addition, all the neighboring yards are all also small and almost completely featureless, not even any trees in most of them, just red party cups littering the ground from last weekend's blowout frat party. One day I suddenly realized that for the first time ever I have a yard that I have complete control of, and I don't have to live surrounded by ugly barren yards and trash, cleaning up my yard and adding this garden has changed the way I think about my own house and my own abilities. This all seems very dramatic for just being about gardening and roses, but I have to say that they really have changed me a lot in less than one year and I am so happy for it.
(also- gardening- what an amazing workout, my arms and shoulders have never looked better!)
Here are a couple of photos of my new little garden. Most of these were taken a few weeks ago, I will post more photos as my plants grow and re-flower. Sorry some of these aren't the best quality photos, I only have an Ipad camera at this point so I'll have to make due, plus I'm learning more about the best times to photograph, etc.
The yellow here is Shockwave, the red is Chrysler Imperial, and the multi color is Rio Samba

Shockwave and some blue bell shaped Clematis

Here is Julia Child and some balloon flowers

Chrysler Imperial with Rio Samba and some blue Delphiniums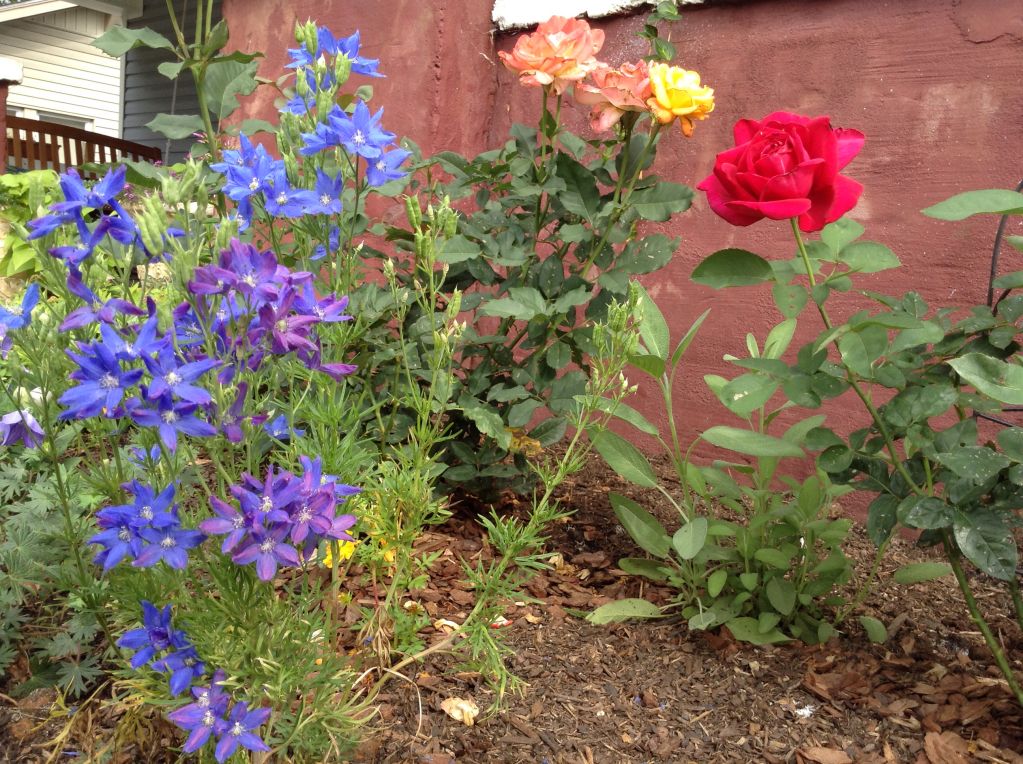 Rio Samba again, & again with some Nicky garden Phlox and balloonflowers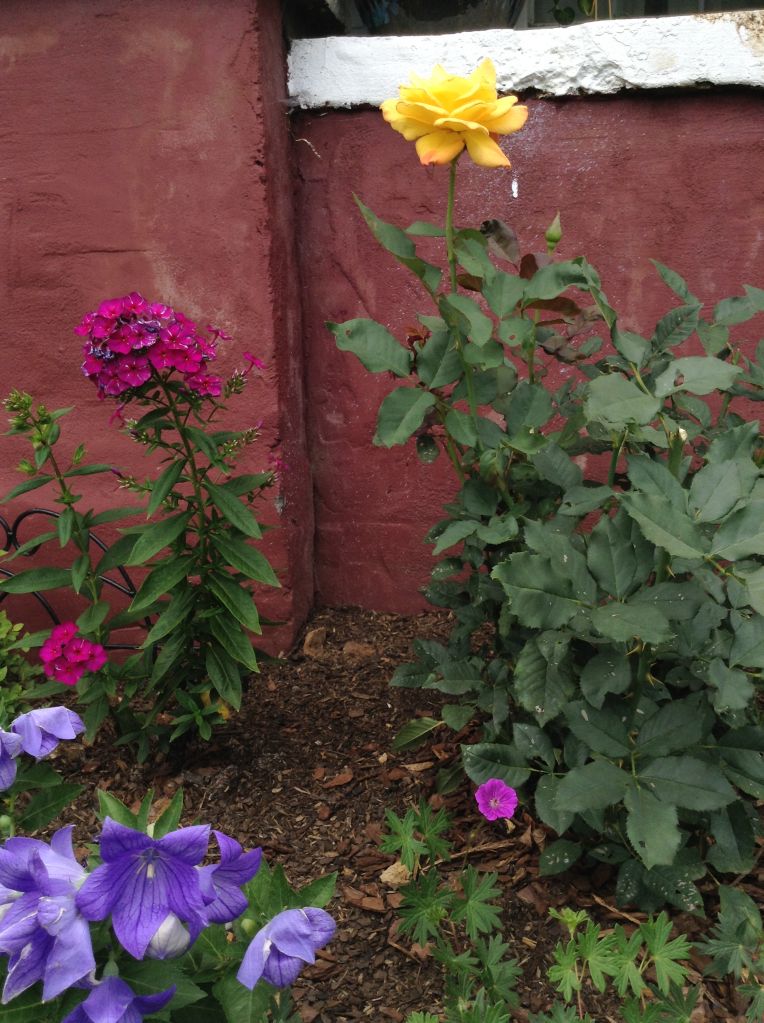 more recent photo of Chrysler Imperial, putting on lots of new buds but still being overshadowed by this crazy tall purple delphinium, as well as the sizable basil plant to the right that was teeny tiny a couple of months ago.. to the very right is About Face, about to show it's face for the first time!

Golden Celebration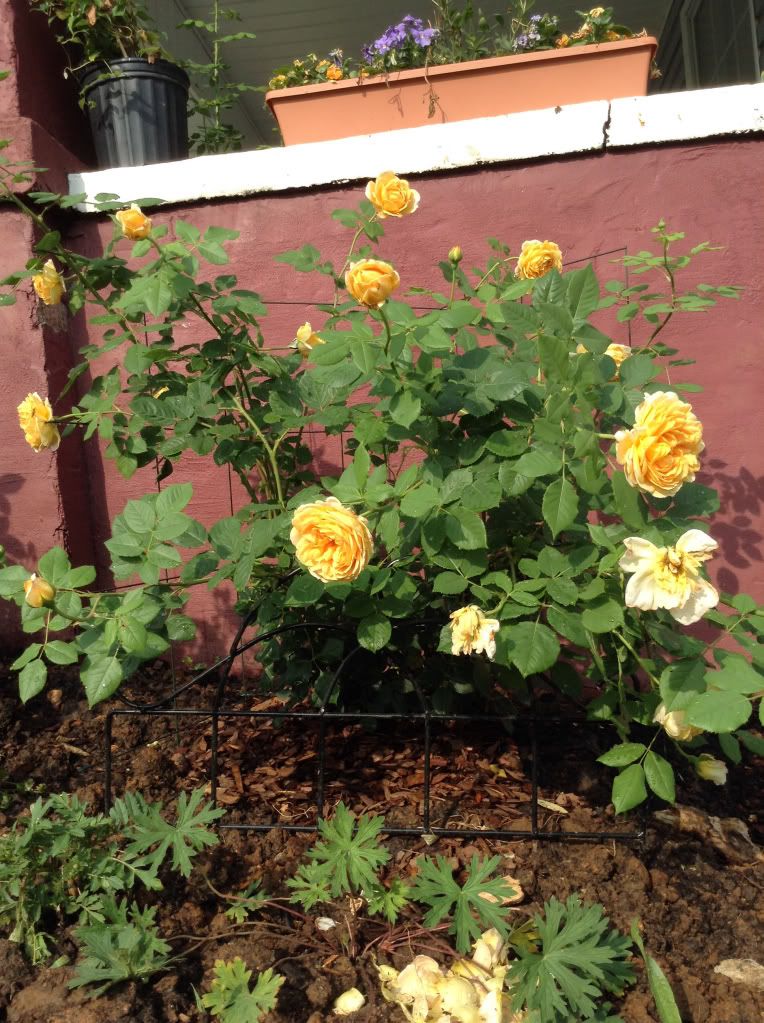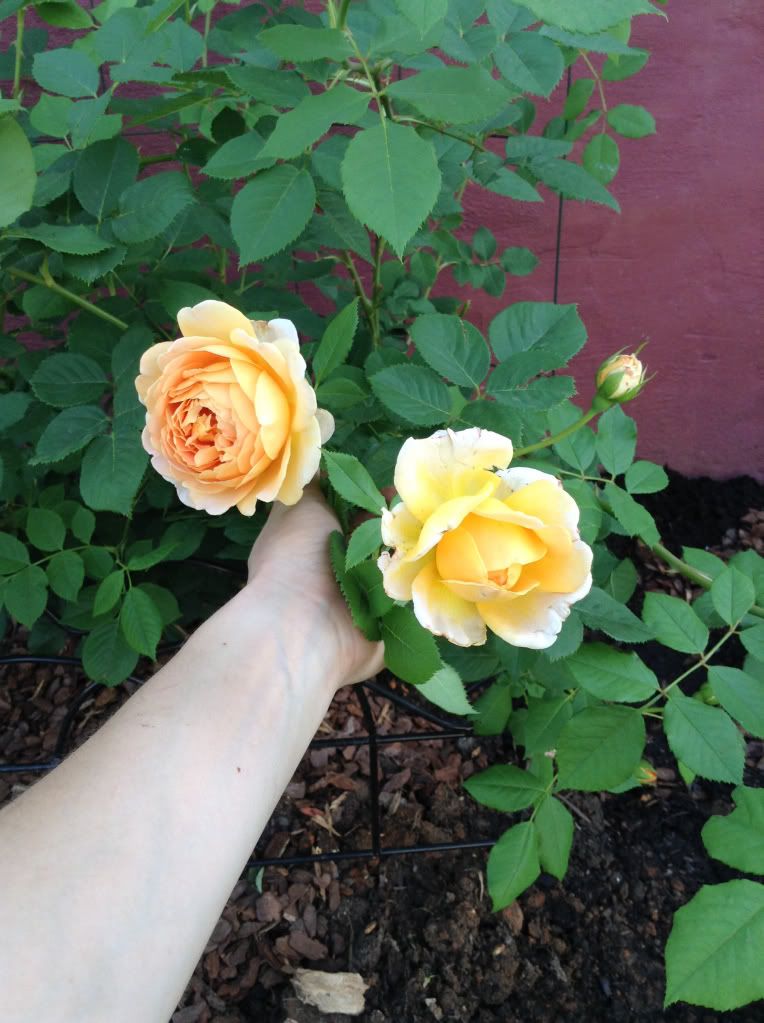 Ebb Tide and Golden Celebration (will post a question soon regarding the quick decline of my Ebb Tide)

Munstead Wood next to Happy Go Lucky

Munstead Wood from behind, what a gorgeous rose! Love it more than I expected (this was when I had to use tomato supports to hold him up - not necessary now)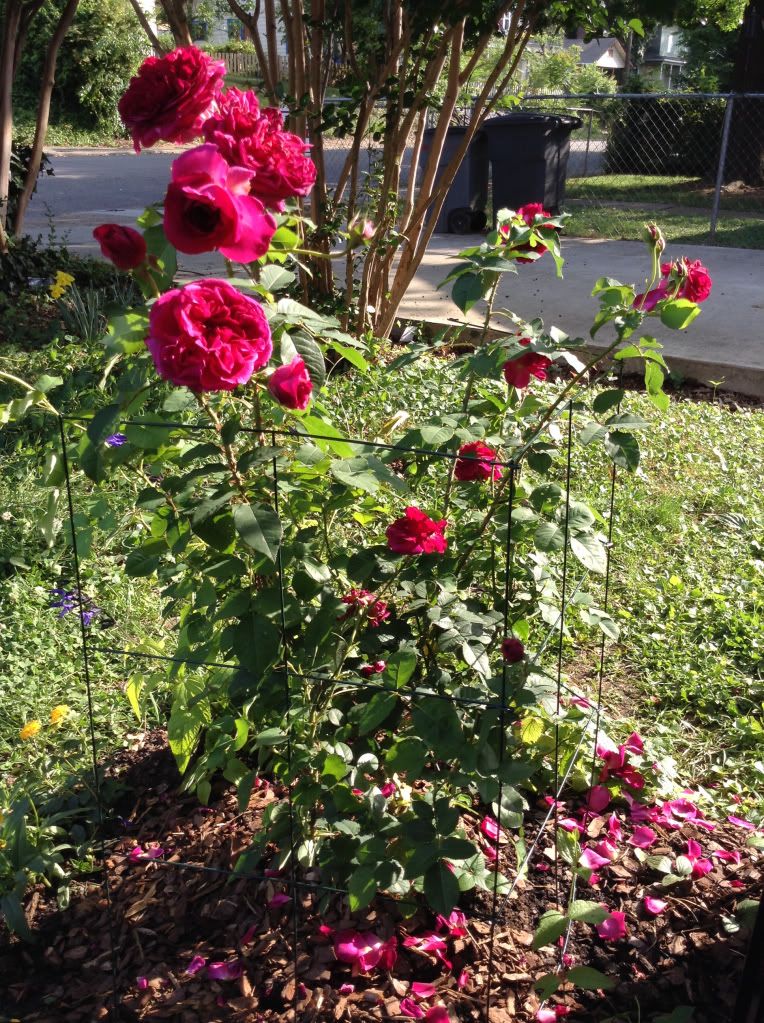 Second Golden celebration in container on porch
Darcey Bussell in container on porch
and last but certainly not least here is my tiny Lady Emma Hamilton- who has stolen my heart with her happy color and intense fragrance- She is only just now blooming as she got a little late start, but I already see myself getting a second one at some point.
Side bed that is part shade that contains my 7 hydrangeas Those little twiggy sticks are supposed to be rose of sharon trees that were a gift from my father and still haven't broken dormancy despite being in the ground for a few months now. I know they are late bloomers but sheesh. They still are flexible and not brittle, so I hope they are alive and wake up soon, we'll see.
Thanks for taking the time to read this and look at my photos, I appreciate you all so much for the countless pieces of advice you have already unknowingly given to me, I hope that one day my garden will be even half as lovely as most of yours are.
Have a swell day.
Jessica.
This post was edited by Dinglehopp3r on Thu, Jun 12, 14 at 19:08