Do I have anything worth trying to keep?
Liz321
(6 - Detroit Metro)
June 20, 2012
Hello all,
I'm a newbie so please be gentle.
Lets start with the back fence line.
My new-to me-house 1949 ranch had the original shrubbery and trees chainsaw pruned by the previous owner. I also lost two older pines this winter and am left with major sun and poor soil. The lousy removal methodsby the previous owner now mean that there are stumps and mystery bushes growing on the back fence line in several places. At each bunch, there are multiple plants all together.
I was told there is some buckthorn in various spots, but other than that, I don't know what is invasive or just too darn big to leave in that spot. There is a maple-type something with leaves as big as my hand, another 10 ft. away that has much thinner frillier leaves with more of a wandering habit, in with the deeply ridge leaved stuff that doesn't want to be killed. Near guesses on any of this?
Most of these pix are taken along a back fence line with overhead wires and growth on both sides of the fence. My neighbor has allowed one tree and ??? grow behind her uggo shed, but they are suckering in to my yard. I want to keep at least my side clean enough that Edison doesn't give me trouble. She is not a cooperative person, so should I just keep cutting what comes through the fence? What if any is worth saving and if so, should I just prune or poison or??
Is any of this worth saving? FYI, neighbor feels it is a good idea to leave cut branches piled against the fenceline. I am not a fan of chemicals, but as you can see, the back of the yard is suffering due to a flood/drought cycle and loss of the large pines. Nothing grew under them, but at least I didn't see her yard as much.
http://www.flickr.com/photos/48139520@N00/sets/72157630199511386/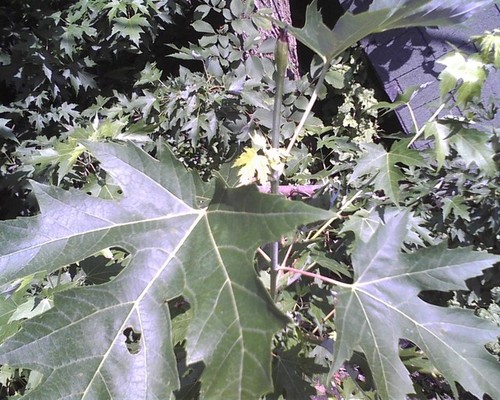 Here is a link that might be useful: Back fence mess