Most of the roses came back from the dead!
caflowerluver
June 15, 2012
Back in early March I thought my HT's were dying because they were old, 20-25 years. I had noticed over the last couple of years that they had been putting out fewer and fewer canes and blooms. On one I was down to one cane with a base over 12" long. They had been on a regular watering and fertilizing schedule. There had been no major diseases or pest infestations or any undue stress due to extreme weather. I live on the Central Coast of CA with temperatures year around that don't vary much, lows 30's-50's winter and highs 70's-80's summer.
As it turned out what was killing my roses' was roots of Monterey Cypress trees that were growing close to the rose bed. I found out when I tried digging out the old ones to plant the new ones and I couldn't get through a mat of fine roots so thick that it was like a plush carpet. It was completely choking and smothering all the rose's roots. DH cut down all the Monterey cypresses that were close to the roses. Actually he ended up cutting down almost all of them on the property.
To revive the roses, I dug around all 30 bushes to clean out the tree's roots. I filled in the holes with chicken poo compost. I fertilized with Bayer All in One rose care. I also gave them a good soaking every week, besides the drip irrigation, and sprayed them with "Spray n Grow". All the roses came back like crazy. They are thick with leaves and blooms. I counted at least 36 blooms on Bewitched. Most have between 12 and 18 blooms with lots of buds. They are doing and looking so much better, which to me confirms that it was the trees that were killing them.
Clare
Bewitched bush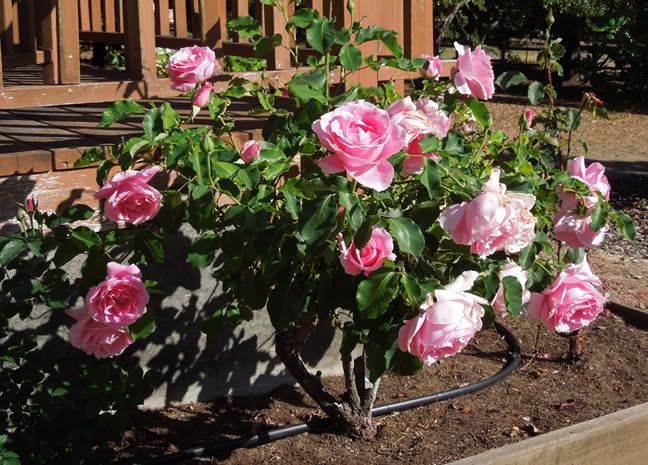 Bewitched
Brass Band bush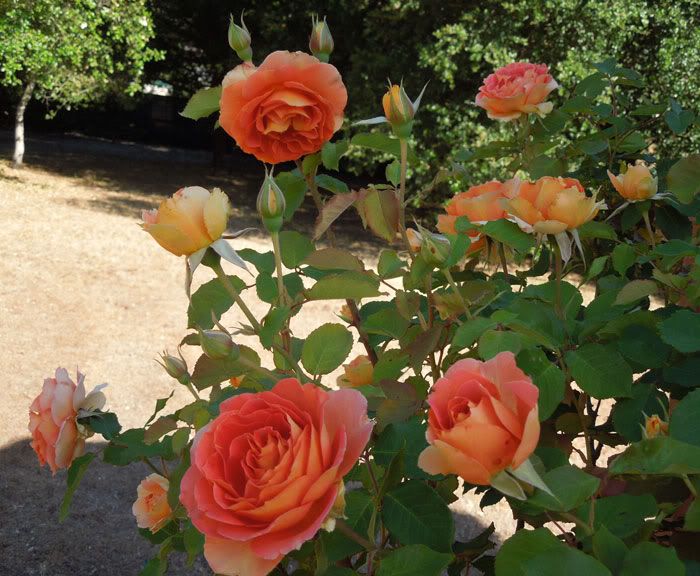 Brass Band