OH NO! how can I save these guys?
berninicaco3
June 22, 2014
I'm new to roses. We had minis when I was a kid, and in a bout of nostalgia I bought a bunch of these guys from a local garden center.
These were healthy when I bought them. All the leaves on these 2 are turning yellow and wilting/dying and I'm scared of losing the whole plant. I potted them on wednesday/thursday. Some of the others are showing the same symptom, but to a lesser degree.
These are 'baby elizabeth' and 'real pink' if breed is relevant.
I used a nice mix of compost with some sand and vermiculate for drainage, and touch of pearlite just because. I also mixed in some granulated rose fertilizer.
at the bottom of the pots is either sand or cocoa mulch (I ran out of sand).
What's causing it, and is there anything I can do in the way of damage control?
Is it just stress from repotting and they'll recover?
could I have over-fertilized (and if so, should I immediately re-repot with soil without fertilizer)?
overwatering from the recent rains (and I need to move under porch to dry out)?
fungus/disease? (seems less likely).
let me know before these die!!
thanks!
-Bernard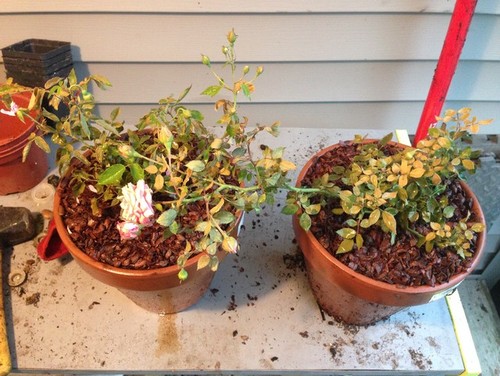 Here is a link that might be useful: