sumac vs toh id
Much confusion on the Tree Forum between Sumac and Tree of Heaven, even among long time posters with limited ID skills. Here is an attempt to distinguish the two.
TREE OF HEAVEN Ailanthus altissima LEFT is an introduced weed from Asia. It creates large monocultures by exhibiting alelopathy. Female trees produce a papery seed which becomes windborne and germinates wherever it lands. The crushed foliage stinks.
STAGHORN SUMAC Rhus typhina RIGHT is native throughout most of Eastern North America. No toxicity is associated with this plant. Firey orange and scarlet can be seen in September & October as one drives along the interstate, these are some of our most vibrant Fall colors.

Freshly cut stems exude a sticky, white latex from S. sumac. Densely pubescent, even sticky velvet covers the stems of this species. Red seed heads are persistent and hang on all winter. This is important wildlife food especially when snow blankets the ground. Leaflets are held sessile.


Leaflets of TOH are stalked. One or more glandular teeth can be found at the base of the leaflet. TOH demonstrates no wildlife benefit. OTOH herbicide manufacturers benefit greatly from its pestiferous nature..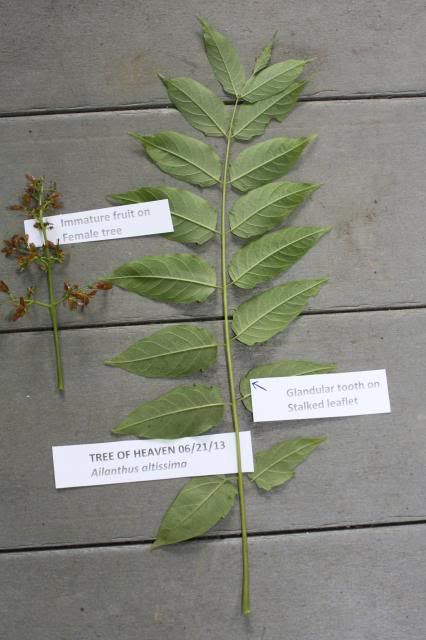 COULD WE LEAVE THIS POST UNANSWERED FOR A WHILE, THAT WAY IT WILL STAY AT THE TOP?