your favorite Agastache?
rouge21_gw
(5)
August 23, 2013
I have a spot that is currently occupied by an Aster frikartii "Monch". In lots of ways it is a good performing plant. Most notably is the lengthy duration of bloom i.e. It starts to flower in late July or early August and this continues into fall. As well it is definitely a water sipper...very important to me. The only negatives are that it is a bit of a flopper and given its location I would like the flowers to be more visible from more of a distance.
(current picture below)
I am contemplating using an Agastache instead in this very much full sun location. I have no experience with Agastache and so I need your advice.
When do Agastache begin to bloom?
Are they as hardy as this Aster I have now? And is it similarly water conserving?
And what are you favorite blue or purpley flowered Agastache?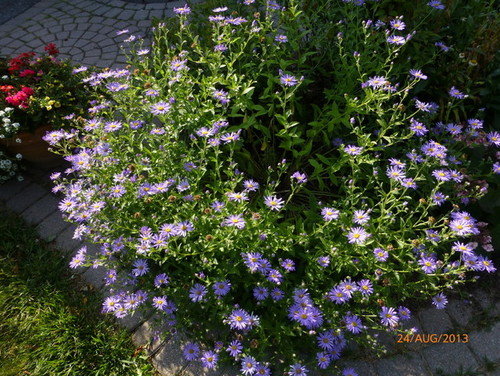 This post was edited by rouge21 on Sun, Aug 25, 13 at 7:26