Help identify problem with sweetbay and little gem.
I am having a couple of problems. One my little gem magnolias have some older leaves that have what looks like mildew or mold growing on them. The new leaves look fine and it does not seem to be affecting the tree, yet. However, since I noticed a major problem with my sweetbays, I thought I had better include the little gems, just to be on the safe side.
My sweetbays, they are being taken over by something. FYI - they are in large built in planters, plenty big enough to support these trees for a good long time. Drainage is exellent, and they receive plenty of water. They are continuing to put on new leaves and have grown well since putting them in back in October. I fertilized with holly tone as well as 1 tree stake in late March. I took these photos to my local nursery, and they offered the following suggestions.
1. A fungus of some sort. Apply diconal (sp?).
2. Cause is most likely the wet humid conditions. In addition they are in planters next to my pool and as a result the evaporation from the pool is probably keeping conditions ripe for a fungus to grow.
3. (something that I mentioned) the planters are brick and are resting on the pool deck. Result - lime leaching into soil causing ph issues. We tested the ph and are getting neutral ( around 7) readings. Will have to stay on top of this.
Little gem, back of leaf. This is by far the worst one that I could find. Others have less spotting.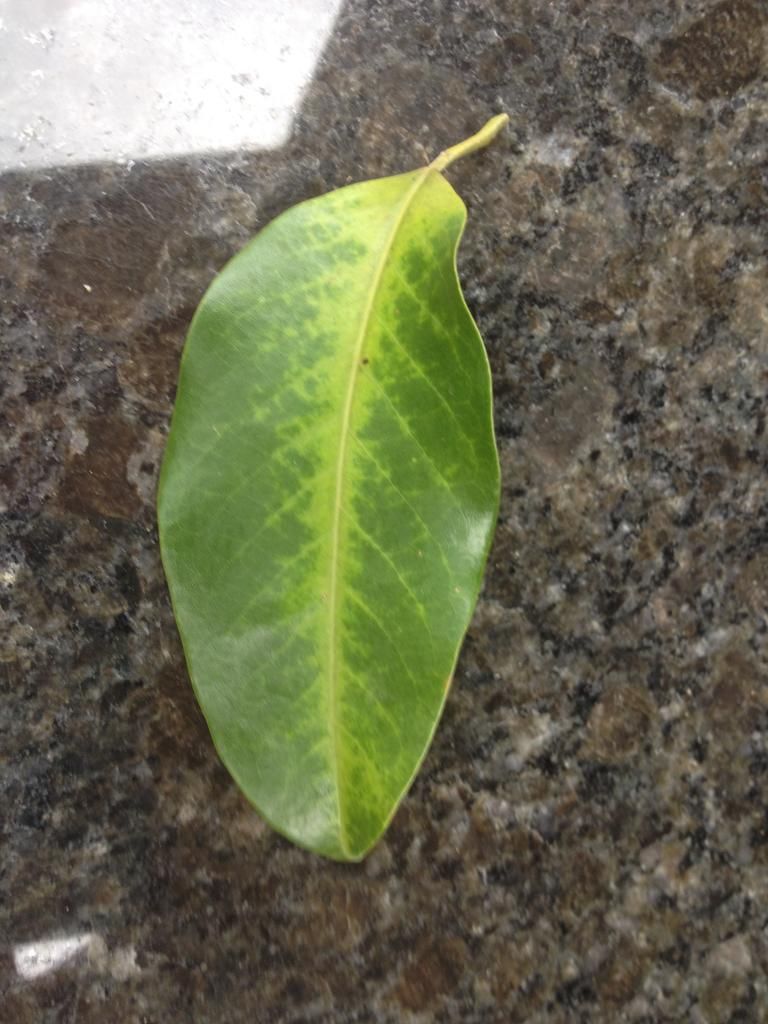 Front of sweetbay leaf. Looks like iron deficiency? Possibly ph issue? Notice the yellow follow the same line as the fungus(?) on the back of the leaf. Is it a separate issue or one thing causing the other?
Back of sweetbay leaf. All but the newest leaves have this to some degree. But they all start out following the mid vein. Some leaves have progressed to having the entire back covered. They then die and fall. But so far only a few have fallen. Nothing yet beyond a normal amount, except for the reason that they are falling.
Branch from the sweetbay. Looks like bs similar to what roses get. It is on all of the green branches. The older brown branches look normal, but the green tender branches are thoroughly covered in spots.
What I have done so far:
Saturday, saturated the sweetbays with daconil. The spots on the branches may be slightly better. Leaves, I can't tell a difference yet.
Sunday, added ironite/holly tone mix.
This is what the entire tree looks like. Without getting up close, you cannot tell that there is anything wrong. Also, notice that the petunias are loving this location.