Where to put fa Beech?
edlincoln
(6A)
August 21, 2014
I've been trying really hard to resist the temptation to buy trees in the summer . Well, on a trip to NH I dug up a tiny Beech sapling that was growing in a wooded lot. That's not a purchase, right? (Before you object, it was growing in a wooded lot my parents own, it was clustered with many other saplings not all of which could survive, and it was too close to a driveway. And I suspect someone may decide to clear the lot).
It has since come to my attention that Beech are finicky trees to plant. Where should I put it? Here are the options:
1.) Along the road. My original thought. The street trees in this area all died off, leaving lots of space to fill. Lots of sun, the the farthest part of the lot from ocean salt spray, no competition. The catch is it is dense clay soil with big rocks, and MIGHT get road salt. (not a lot)
2.) In a mulched tree cluster by the driveway. Two trees were planted close together next to the driveway in a patch of improved soil. One died, leaving a Norway Spruce with no branches on one side and a half empty mulched bed with loamy soil. I'd planned on filling this with a small understory tree like redbud or paw paw. Sheltered from wind and salt spray, little space.
3.) In a mulched bed by the sea. Salt spry every hurricane, and shade, but good loamy soil.
4.) Underneath dying maples. Partial shade (not a lot), a little wind and salt exposure, Hardpacked clay soil with gravel
5.) By the ocean. Lots of sun, salt spray, sandy gravelly soil.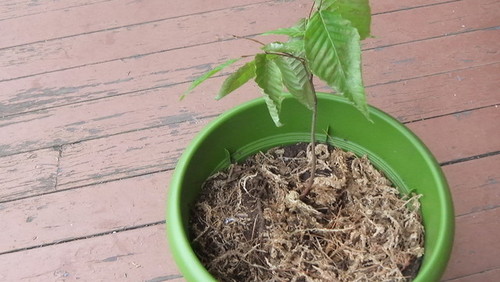 This post was edited by edlincoln on Thu, Aug 21, 14 at 15:30